Look out!
Falls rank as leading cause of hospitalizations for young and old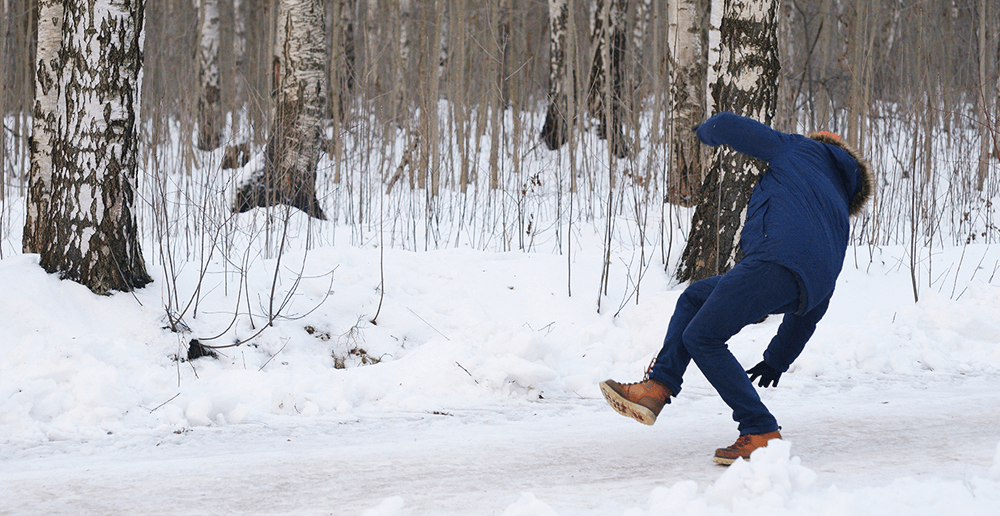 By Cynthia Menzies
Winnipeg Regional Health Authority
Published Friday, November 24, 2017
Each year in Winnipeg, one in three adults over the age of 65 experiences a fall.
And while that number goes up if you're over 80 years of age, it's not just older adults who are falling. Toddlers and children are also taking tumbles.
Statistics show there were 26,546 hospitalizations due to falls between 2000 and 2010. People over the age of 65 accounted for the most falls during that time – 18,116. Kids under the age of 14 recorded 1,081 hospitalizations due to falls during that time, while adults between the ages of 25 and 64 had 6,511. In fact, falls were the leading cause of injury-related hospitalizations during that time period for every age group, except those between the ages of 15 and 24.
As the evidence suggests, falls are a major health issue in Winnipeg. People who suffer serious injuries due to falls can experience a reduction in quality of life and independence. Older adults injured in a fall can spend an average of 10 days longer in hospital than they would for any other cause.
Falls can also be expensive to the health-care system. Hip fractures in older adults, which are almost always caused by falls, costs Manitoba in excess of $10 million a year for initial care, and more than $30 million a year if other osteoporotic fractures are considered.
The good news is that injuries due to falls are preventable, provided you know how to reduce the risks.
Consider: Most falls occur in the home. While anyone can fall at any time, older adults, babies, and children under five years of age are the most likely to be seriously injured.
Babies and children fall from furniture and down stairs, in addition to falling through windows. Falls from one level to another are responsible for a large proportion of injuries. Half of these injuries are to the head and face, because little children have immature protective reflexes and disproportionately large heads, which often end up absorbing the brunt of a fall. Among older adults, falls are the leading cause of injury deaths, unintentional injuries and hospital admissions for trauma. Nearly half of falls that result in an injury occur due to minor slips, trips and stumbles. Other common causes include falling when going up or down stairs and slipping on ice or snow.
Parents, caregivers and family members can take these steps to prevent their child from falling:
Put a safety gate at the top and bottom of stairs. Make sure the gate at the top of the stairs is bolted into the wall.
Always use the safety belt on your child's stroller, high chair, shopping cart and other baby equipment.
Place bouncer chairs and car seats on the floor rather than on the table or counter.
Move furniture away from the windows, and install window safety devices.
Supervise your children at the playground. If your child is under five years of age, make sure you can easily reach him or her at all times.
Look for public playgrounds that use surfaces like sand, pea gravel, shredded bark mulch, wood chip nuggets and rubber mulch. These surfaces can reduce the risk of a serious injury from falls.
Older adults can take the following steps to reduce the risk of falling:
Improve your balance. Exercise for two hours each week or about 20 minutes every day.
Add balance exercises in addition to other physical activities. If you are just starting to exercise, talk to your doctor first.
Manage your medications. Have your prescriptions, over-the-counter drugs (such as pain relievers),vitamins and herbal supplements reviewed by your doctor, pharmacist or nurse once a year and when you start a new medication.
Take 1,000 IU vitamin D supplement every day.
Always wear your glasses or contact lenses as prescribed. Have your glasses and contact lenses checked by your optometrist every year.
Choose shoes that fit well, provide good support and traction, and have low, wide heels.
Identify, remove and report hazards. Remove things in your home that could cause you to trip,such as throw rugs, clutter and electrical cords.
These are just a few of the precautions you can take to help reduce the risk of injury from a fall. You can find other resources, including videos on how to prevent falls, at www.preventfalls.ca.
Cynthia Menzies is an injury prevention program specialist with the Winnipeg Regional Health Authority.