Innovative clinic offers one-stop shop for people with, or at risk of, irregular heart rhythms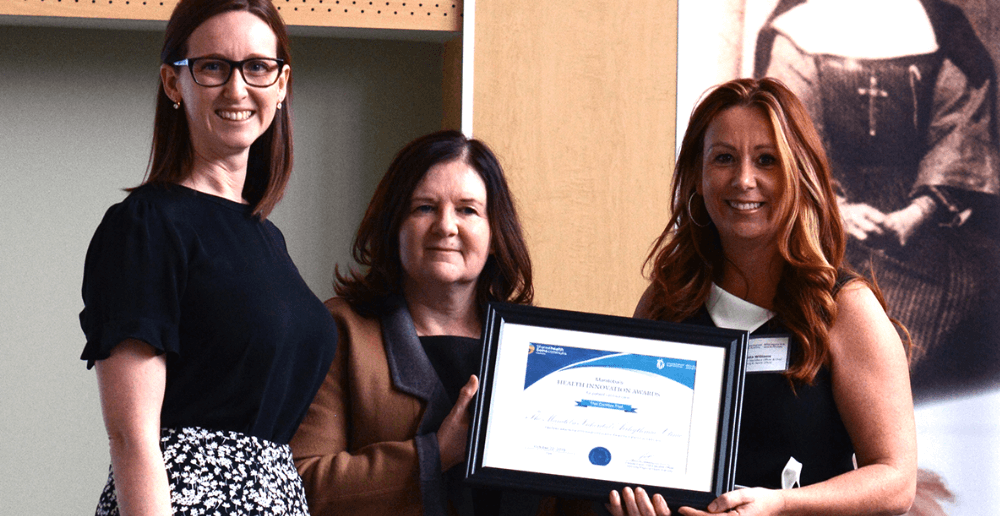 By Mike Daly
Winnipeg Regional Health Authority
Published Tuesday, October 22, 2019
Great things happen when experts work together.
Since its inception in 2016, the Manitoba Inherited Arrhythmia Clinic (IAC) has improved access for patients and families needing specialist care in the identification and treatment of inherited conditions that may result in life threatening cardiac arrhythmias. (An arrhythmia is a problem with the rhythm of the heartbeat. During an arrhythmia, the heart can beat too quickly, too slowly, or with an irregular rhythm.)
The clinic is one of three winners of the 2019 Health Innovation Award for Patient Centred Care, which recognizes initiatives "that have directly resulted in positive improvements to processes, clinical approaches, and the culture of patient-centred care."
As Dr. Colette Seifer, Medical Director – Cardiology , Winnipeg Regional Health Authority (WRHA) explains, the Clinic brings together a dedicated team of adult and pediatric cardiologists and electrophysiologists, medical geneticists, pathologists, genetic counsellors, research nurses and support staff in a single location to better meet the needs of people with, or at risk of, irregular heart rhythms.
"Prior to the launch of the Clinic, there was no cohesive, systematic way of assessing these patients and families," Seifer says, adding that the Clinic has filled a significant geographic gap for clinics of this type. "Previously, there was no clinic between London, Ontario and Calgary, Alberta.
"Patients and relatives can attend the Clinic as a family and access cardiac and genetic specialists in a single visit while having the majority of their cardiac testing done at the same time. That results in not only more convenience, but in better care and reduced stress," Seifer says.
Today, Manitoba's IAC is one of 16 inherited arrhythmia clinics across the country, providing important clinical treatment and research into inherited cardiac disorders.
Stephanie Clarke is a Genetic Counsellor with the clinic.
"I think what makes us unique and innovative is that we see our patients as a focused, multidisciplinary team," Clarke says. "Previously, we were seeing these patients on our own, but we weren't coming together and people didn't have a centralized area they could refer to. One of the best parts is that we get to collaborate on their care."
Electrophysiologist and Medical Director of the WRHA's Arrhythmia Program, Dr. Clarence Khoo, agrees.
"Working together as a team helps us present our patients with a unified care plan and a unified message," he says.
Patients also have the opportunity to contribute to important research into inherited arrhythmia.
"There are a number of nationwide registries and studies that the clinic feeds into, which allows us to better share our information and knowledge beyond Manitoba's borders, both nationally and internationally," Khoo says. "It gives patients an opportunity to not only to improve their own health and that of their family members, but to contribute to a growing pool of medical knowledge."
That's an important consideration in helping people cope with inherited arrhythmia, Clarke says.
"These conditions are all considered rare," Clarke says. "By working together as a team, with the support and participation of patients and their families, we are learning more about these conditions and improving our understanding. For our patients and their families, we can provide them with a better overall picture of what's going on."