Your health system update
Winnipeg Regional Health Authority
Published Thursday, November 28, 2019
Every year, the Canadian Institute for Health Information (CIHI) releases statistical information about the health-care systems across Canada, through its online portal, titled Your Health System.
This information covers not only hospital care, but all aspects of a health-care system, including home care, long-term care, mental health services, and the community determinants of health, among other metrics.
This data, which was most recently updated on Nov. 28, 2019, includes 32 indicators that help us to monitor our own performance trends over time, and benchmark ourselves against other health systems across Canada.
It highlights improvements we are making, and more importantly helps identify further opportunities for quality improvements.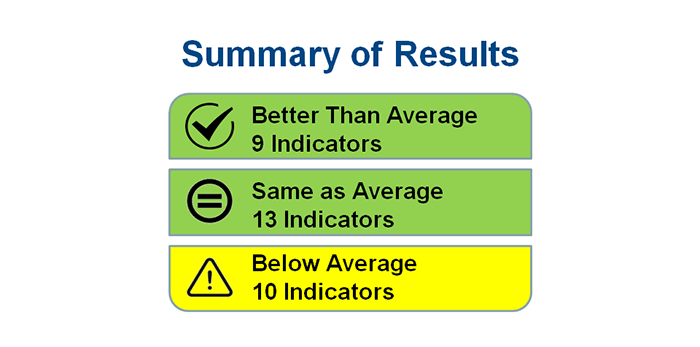 Summary of results
The data recently released by CIHI includes the most current data available across Canada, including results from 2018/19 (ending March 31, 2019) for most indicators.
According to CIHI, the WRHA is performing average or better than average, compared with the rest of Canada, on 22 of 32 (69%) metrics. CIHI reported that the WRHA's performance is better than average on nine of those indicators; below average on 10 indicators and remains on par with the Canadian average for 13 indicators.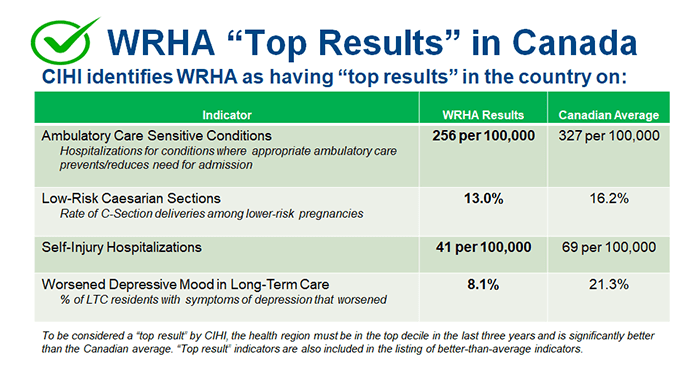 WRHA a top performer in some areas
In terms of top results, CIHI considers the WRHA to be in the top 10% in the country on four indicators.
When it comes to ambulatory care (see table above), for example, what this indicator essentially means is that we are one of the best in Canada at keeping people out of hospital and in the community. It's well known that health outcomes are better when people can be treated in the community rather than in the hospital. This is great news for our patients, and for our health-care system.
According to CIHI, we are actually the very best in Canada at ensuring our clients do not suffer worsened depressive mood in long-term care (LTC), see table above.
This is a testament to the effort and hard work of our LTC staff.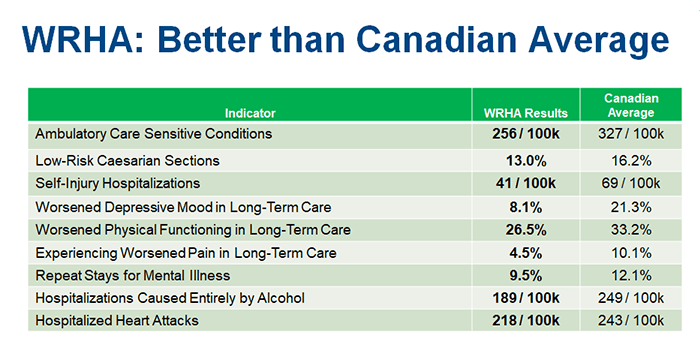 Better than average
CIHI considers the WRHA's performance to be better than the national average on 9 categories, including the four where the region is a top performer.
Note for example the region's performance on Repeat Stays for Mental Illness (see table above).
What this means is that fewer people here in Winnipeg are having to go back to hospital time after time for mental health concerns, than they are in other areas across Canada.
This highlights the importance of our care teams' efforts in community mental health programming, which helps prevent hospitalizations for mental health issues.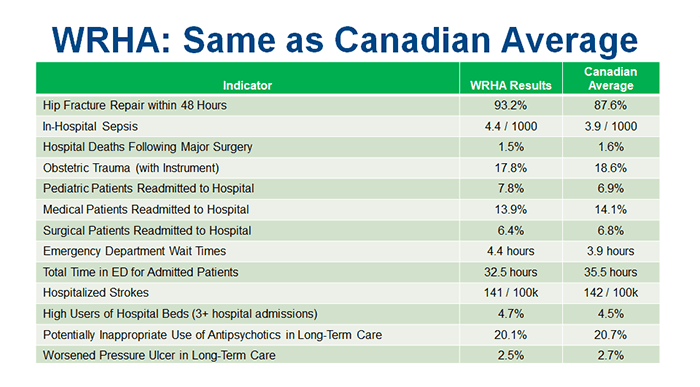 Same as Canadian average
Looking at areas of the system where CIHI considers the WRHA average, there are 13 indicators where the region is considered to be roughly on par with the rest of Canada.
Health systems don't have to be precisely at the exact average to fall into this category. It includes metrics where a region is "close to" the average, so not significantly above or below, or within the margin of error.
Take for example Hip fracture repair within 48 hours (see table above). The WRHA's figure is very good in this respect, and we are proud of that. It is an important category when it comes to quality of life for our patients. This is a credit to the surgical teams who operate in our region.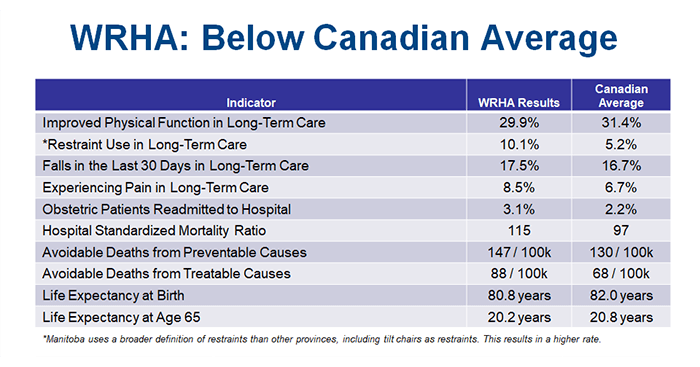 Below average
This category is one of the most beneficial elements for the region when it comes to CIHI's reports, because it helps inform and direct our improvement and quality efforts.
There are a few things to note from this list.
Some of these indicators are directly related to the health-care system. However, others are more properly considered community determinants of health, and as such are affected by many other factors. Take for example life expectancy. The health-care system has some impact on that figure, but there are other determinants of health that influence this, such as the environment, income, education level, social supports, etc.
The WRHA takes its role seriously when it comes to offering health services that affect these metrics, but it's equally important for the region to work with other community partners to help improve health outcomes. Similarly, when these community determinants of health are rated as better than average, the whole community shares in the credit.
Another indicator to note here is Hospital Standardized Mortality Ratio, which measures the number of in-patients who pass away in hospital, versus what the expected rate ought to be. CIHI recognizes in this update that WRHA is improving in this category, but we are still below the average and we acknowledge there is room for improvement here.
To that end, we have implemented an early warning initiative in our hospitals where we identify patients whose condition is at risk of deteriorating, and focus our efforts on preventing that from happening.
The WRHA is committed to improving our region's performance on all the indicators where CIHI rated us below average. We acknowledge there is work to do in some areas, and we are committed to doing that work.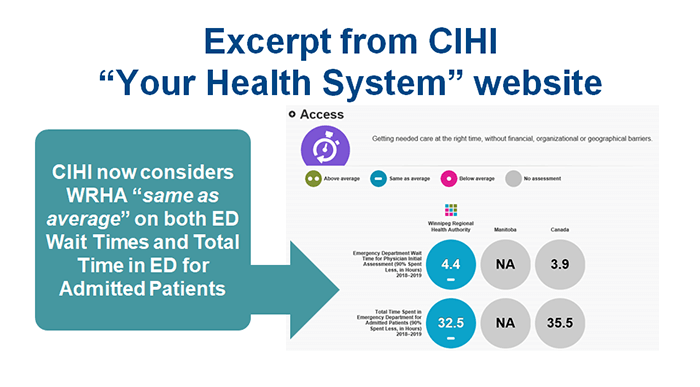 Emergency wait times
It is worth noting that for the first time in six years, since CIHI started reporting this information, the WRHA is no longer considered below the Canadian average for emergency department wait times.
That being said, we know we can do better and we have to do better. This is a key area of improvement focus for us.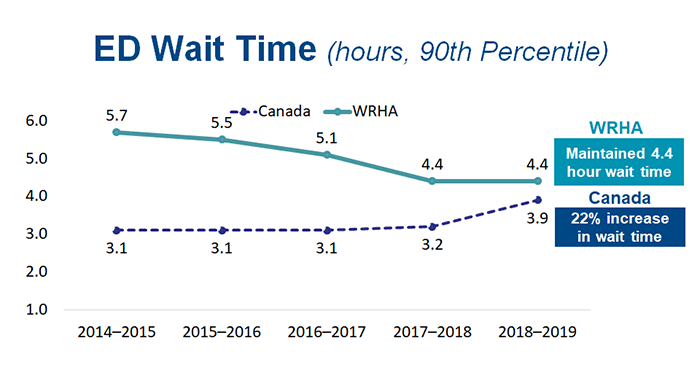 NOTE: 90th percentile means that 9 out of 10 patients will wait less than this time.
The WRHA's 90th percentile emergency department wait time was 4.4 hours in 2018-19, which is the same as it was the previous year.
The Canadian average has increased, but we are still above it and want to be at or below it. Our stated goal has long been to be at or better than the Canadian average by April 1, 2021. We hope to meet or exceed that goal, and then maintain that position.
That average is a moving target based on the performance of all of Canada, but our commitment is to improve our own performance regardless of what happens elsewhere in Canada.
While we work to improve wait times, it is a testimony to the professionalism and commitment of all emergency staff, nurses and physicians that we have maintained wait times through very disruptive change, while most of the country has seen an increase.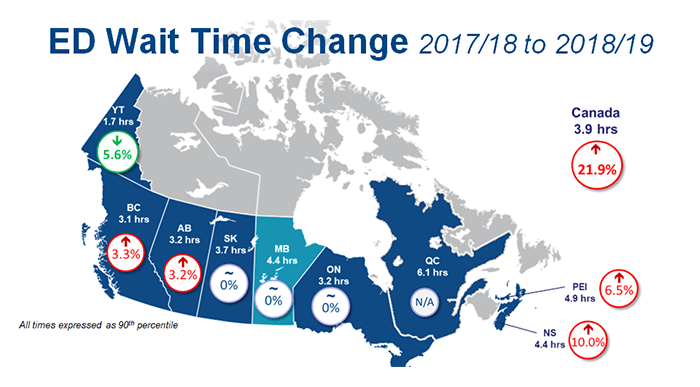 Canada saw an overall increase in emergency wait times in 2018-19, with Yukon being the only jurisdiction to improve.
What this map shows is that while Manitoba held steady, there were increases in many other provinces, including Alberta, BC and Nova Scotia.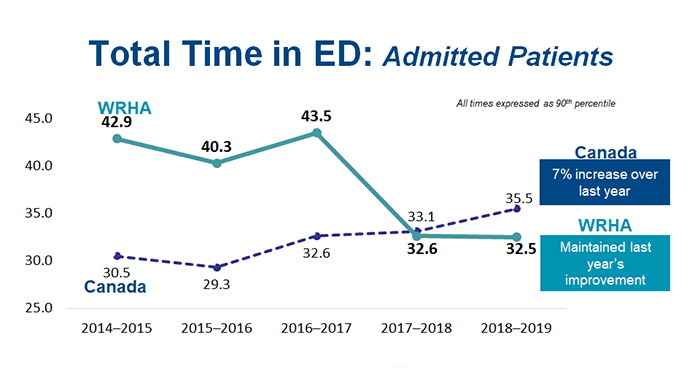 Total time in emergency
Finally, CIHI reports time spent in emergency for admitted patients. This includes only patients who end up getting admitted; not those who are discharged.
Every health system struggles with this, but it's an area where we feel we are making really good progress. WRHA is now better than the Canadian average.
Significant work has been undertaken within the WRHA to reduce the time patients who are admitted spend in the emergency departments.
Thank you to all staff for the improvements they have made to really advance this, most importantly because it's about our patients and them getting the right care in the right place at the right time.
What do you think?
The WRHA is committed to being transparent and accountable to both the patients we serve, and to our staff.
Regional leadership appreciates hearing from anyone and everyone who takes the time to share their health care experiences with us - good and bad - to help us continually improve the services we provide. If you'd like to share an experience with us, please reach out to our client relations department.
And as always, a big "thank you" goes out to all staff and physicians across our region for their total commitment to providing the best possible care to patients.