Cardiac intensive care nurses take pandemic response to heart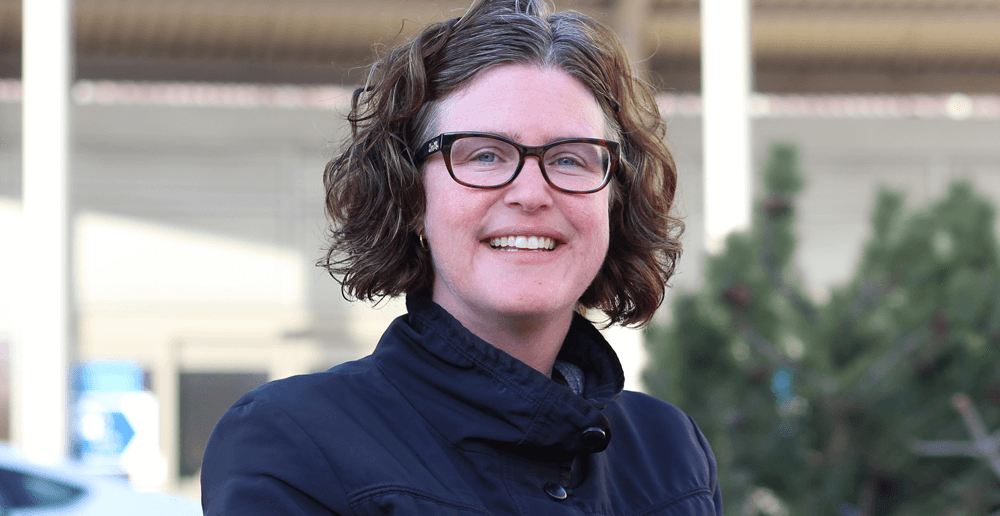 By Mike Daly
Winnipeg Regional Health Authority
Published Monday, May 11, 2020
Under normal circumstances, St. Boniface Hospital's Intensive Care Cardiac Sciences unit (ICCS) is focused solely on the care of critically-ill patients with a heart issue. But, like so many other facets of life these days, the unit's definition of "normal" has had to change with the advent of the COVID-19 pandemic.
Michelle Loeppky has felt this change over the last number of months as a Clinical Resource Nurse on the unit as she supports the care team with questions that extend beyond cardiac care.
"Most of my day is spent working with the nurses at the bedside to make sure they have what they need to perform their tasks," Loeppky says. "At certain times, that might be helping to answer questions, guiding them in a certain clinical direction, discussing with physicians any concerns the nurses might have, or liaising with other professionals on the health care team, such as respiratory therapists, health care aides, or dieticians, to name a few."
While Loeppky and other members of the cardiac ICCS nursing team may not be caring for COVID-19 patients directly, they remain important players in the hospital's fight against the virus. To allow other staff members to care for patients with COVID-19, Loeppky and her colleagues have branched out beyond cardiac care to treat patients with serious health conditions that are not related to COVID-19. As in other facilities, the unit's surgical slate has been reduced to accommodate the change.
COVID-19 is never far from the minds of those working in the unit, however, or for patients and their families, all of whom are being asked to adjust to a new reality.
"It's out there and everyone is thinking about it," Loeppky says. "It's important when the public is dealing with something like this that we're ready and able to take care of our patients. It boils down to being prepared and making sure we're familiar with what we need to do to protect patients and to protect ourselves so that we can continue to provide the quality patient care that the public relies on."
For nurses and other health care professionals in the cardiac ICCS, that means strict adherence to safety procedures.
"Hospital leadership has done a good job of helping us focus our procedures and protocols to maximize the safety of patients and our fellow health care workers," Loeppky says. These include enhanced precautions for procedures such intubation that might place staff and patients at higher risk of infection, as well more general steps to help minimize the spread of COVID-19.
"The intent is to protect the patient, so there's an added focus to wearing personal protective equipment (PPE), washing our hands, and all those other precautions you hear on the news and on TV."
The use and importance of PPE predates recent events, Loeppky adds, but has been reinforced in these days of pandemic.
"We've had a lot of conversations about wearing PPE: making sure that we're familiar with the requirements and that we're using it properly. It's been a lot of reiterating the education that we've had, having those conversations, calming fears a little bit. That has been a regular part of our work in recent weeks, for sure."
Another regular part of work in the ICCS – keeping the families of patients informed – has taken a new twist with the use of video chat technology.
"They can't be in the hospital at this time, but they still very much need to be part of the process," Loeppky says. "We've implemented a formal process for communicating with family members that identifies a family liaison to help develop a communication plan to provide medical updates and ensure patient and family needs are met through teleconferencing or videoconferencing with the healthcare team. It provides a great relief for (family members), so they can see the patient is okay."
That contact, though indirect by necessity, does wonders.
"A lot of times, family members haven't really encountered intensive care before, so it's usually a pretty scary time for them," Loeppky says. "We can help them appreciate the path of a patient through intensive care and help them to understand that, although [the patient] is on life support, this may be just a temporary measure we need to take."
While these are unprecedented times that can be scary, it reinforces the need for caring communication and support, traits for which nurses are well-known, Loeppky says.
"Nurses have always been an important part of the health care system. We are the folks that spend the most time with patients. That part of things has not changed," she says.
"The pandemic has shed a light on the importance of the work we do," Loeppky says. "Our skill set is unique, and we are able to help people in a way others can't. So this is a moment where nurses really shine. It's a wonderful profession."
* Clinical Resource Nursing is a leadership role responsible for the coordination of nursing services, the flow of patients within an area of the health care system, patient safety, and for serving as a resource for nursing staff.
Mike Daly is a Communications Specialist with the Winnipeg Regional Health Authority.