Feeling right at home
Home Care brings quality health care to the client's door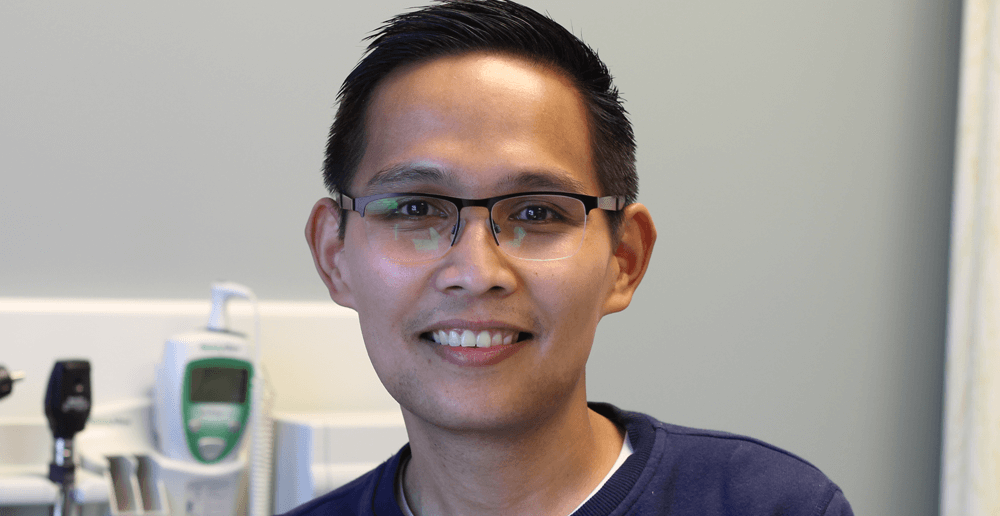 By Mike Daly
Winnipeg Regional Health Authority
Published Monday, May 11, 2020
Most of us dealing with the COVID-19 pandemic have been scrupulously following advice to not allow visitors into our homes. But for a number of clients of the WRHA's Home Care program, Jay Barayuga's presence is a reassuring and necessary sight.
As a Visiting Nurse with the program for the past three years, Barayuga conducts ongoing health assessments, ensuring that his clients are coping well within their homes. He also helps ensure that family members or caregivers have the support they need within the health care system.
Established in 1974, the WRHA's Home Care program helps people live at home and remain independent for as long as possible, thereby avoiding or delaying the need for admission into hospitals or long term care facilities. To be eligible for Home Care, individuals must be a Manitoba resident, registered with Manitoba Health, require health services or assistance with activities of daily living, require service to remain safely in their homes, and require more assistance than is available from existing supports and community resources.
"The importance of Home Care is that nurses provide care in the clients' homes, where they are most comfortable, where they are at lower risk of infection, and where, I think [and evidence shows], they heal faster. They are in their comfort zone, basically.
"We deal with clients in all aspects of their life and care," Barayuga says. "We don't go there just to complete a task; we assess and to look at the bigger picture. What's going on with the client? Do they need help from other health care experts? If so, that's the time that we coordinate and collaborate with other members of the health care team."
Those other resources can include dieticians, nurse specialists, and occupational and physiotherapists, he says. The Home Care team also helps keep the client's physician up-to-date about how the client's care is progressing.
The challenges and rewards of the job provided ample incentive for him to make the move from a previous job as a nurse in a personal care home.
"I find that in Home Care, I have autonomy," he says. "My job maximizes my critical thinking skills. I have to evaluate whether my interventions are working or not. If I find the interventions aren't working, then I have to re-evaluate, re-assess and change my interventions to achieve the care goals for the client."
Working day or evening shifts, Barayuga sees an average of 12 clients per day, or up to 21 clients if he is working in a large seniors' residence such like Lion's Manor or Lion's Place. In either case, he says his clients are happy to see him.
"Sometimes they live at home all by themselves, and the only people they get to talk to are Home Care staff. They are able to have a discussion about how they feel, and it helps them to have someone take the time to listen."
Providing that kind of client care and satisfaction is also rewarding to Home Care staff.
"When the client is appreciative of the care we are providing, it's gratifying," Bayayuga says. "If we see clients who heed our health advice and we see that, for example, they are diabetic and are adhering to their diet and effectively managing their use of insulin, it makes us happy and makes it easier for us to help them achieve their health care targets."
For Bayayuga, it all adds up to a simple recipe for success.
"Success is when you are happy in what you are doing. And I'm very happy supporting my clients in Home Care. I think the most rewarding part of my job is making a difference in other people's lives and putting a smile on their faces. That's priceless."
For more information about Home Care, visit www.gov.mb.ca/health/homecare/guide.pdf.
Mike Daly is a Communications Specialist with the Winnipeg Regional Health Authority.