Patient and personal safety a key focus for Concordia nurse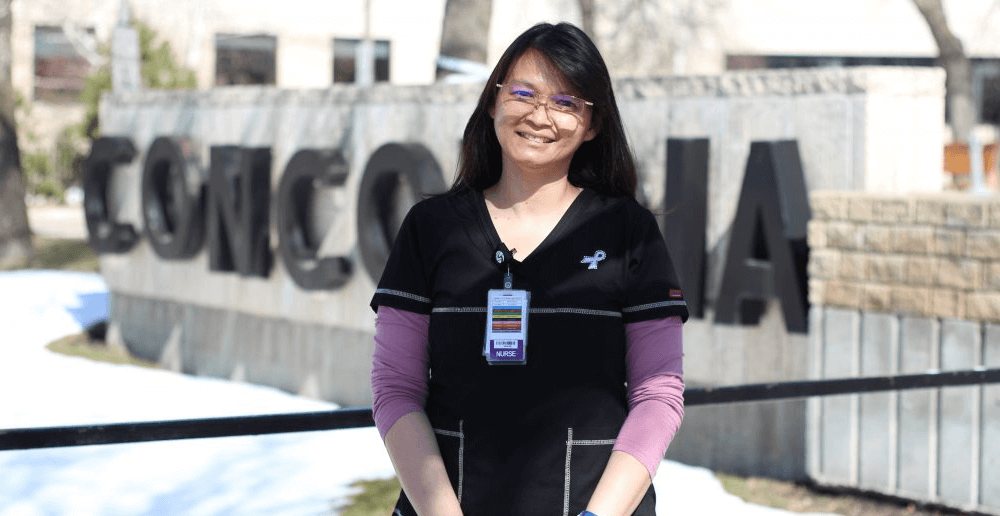 By Mike Daly
Winnipeg Regional Health Authority
Published Monday, May 10, 2021
Since her early days as an industrial nurse for a manufacturing company in the Philippines to her current role as a family medicine nurse at Concordia Hospital, Amylynn Nucom has more than 23 years of experience caring for other people. Nothing in those 23 years, however, prepared her for what she and so many other health-care professionals would experience during a global pandemic that has now entered its second year.
"Like other Manitoba nurses, I've never dealt with anything of such a magnitude," she says. "At first, I got so nervous and anxious. I wondered, 'If I get COVID-19, what will happen to me? What will happen to my family?' If I passed it to them, I would be the reason why they were sick, and that was a possibility that was really hard for me to accept."
It was a fear that, for most nurses, went largely unspoken in the early days of the pandemic as they put professionalism and the care of their patients above personal concerns. It is that ethos - along with the support of her colleagues and family - that has sustained Nucom throughout the pandemic.
"This is my calling, and I really like taking care of people," she says. "The most rewarding thing about being a nurse is making a difference in the lives of others. I always found myself thinking, 'What if I was the one who was sick in that bed?' It's one of those things where you have to apply The Golden Rule of treating people as you would want to be treated in similar circumstances."
Nucom and her fellow professionals continue to meet that challenge every day, working together to minimize risk to themselves and those under their care. That has meant strict adherence to infection prevention and control protocols, including the use of personal protection equipment (PPE) and practicing good hand hygiene.
"I have witnessed many times how my colleagues have gone above and beyond to fight the spread of COVID-19," she says. "I work closely with my manager to ensure that we nurses have the proper PPE to care for patients while caring for ourselves. We make sure there's always lots of masks gloves, gowns on hand."
Nurses are also supporting each on an emotional level.
"We support each other by providing words of encouragement, and reminding ourselves that even though the circumstances related to the pandemic are very challenging, that we can do it. It's not about who is responsible for what, or about who's the boss; it's about teamwork."
For Nucom, that commitment to teamwork has manifested itself a willingness to pick up extra shifts and helping her unit's health care aides and ward clerk where possible.
All of that teamwork is aimed at the overriding goal for nurses working in health-care facilities throughout the province: providing the best possible patient care in these challenging times.
"Before the pandemic, families could freely visit with patients and provide emotional support, but that's no longer possible with the current restrictions," Nucom says. "Being in the hospital is never easy, but with visitation being restricted, the pandemic is an especially hard time for patients and their families."
Nurses are making an extra effort to keep families up-to-date, and have been using technologies such as FaceTime to help keep patients in touch with family and friends. Often, the nurses themselves take a few minutes to provide some much-needed human contact.
"I will sit with them when I can, because listening to them provides them with some emotional support," Nucom says, adding that, for the most part, patients and their families understand the need to restrict visits as a means of preventing the spread of COVID-19. "We first have to make sure that they are safe and we are safe, too. Sometimes, that's very upsetting for families in terms of meeting their expectations, but safety has to come first."
That "safety first" mentality has also extended to her private life, Nucom says, adding that her husband and family have pitched in on the home front to ensure they are all as safe as possible.
"I am very lucky thankful that my family, especially my husband, is very supportive," she says. "We're very careful with hand hygiene and cleaning; it's like we're in the hospital. We're not going to the malls even though they're open, and we're not going to restaurants. I jokingly tell my husband that he's stricter than Dr. Roussin [Manitoba's chief public health officer]!"
Still, Nucom is optimistic that the worst will soon be behind us.
"I think everything will change soon," she says. "In the meantime, it's really up to us. All of us need to continue to take the pandemic seriously, and to do what we can to protect ourselves and others."
Mike Daly is a Communications Specialist with the Winnipeg Regional Health Authority.