'Dial Don't Drive' saved my life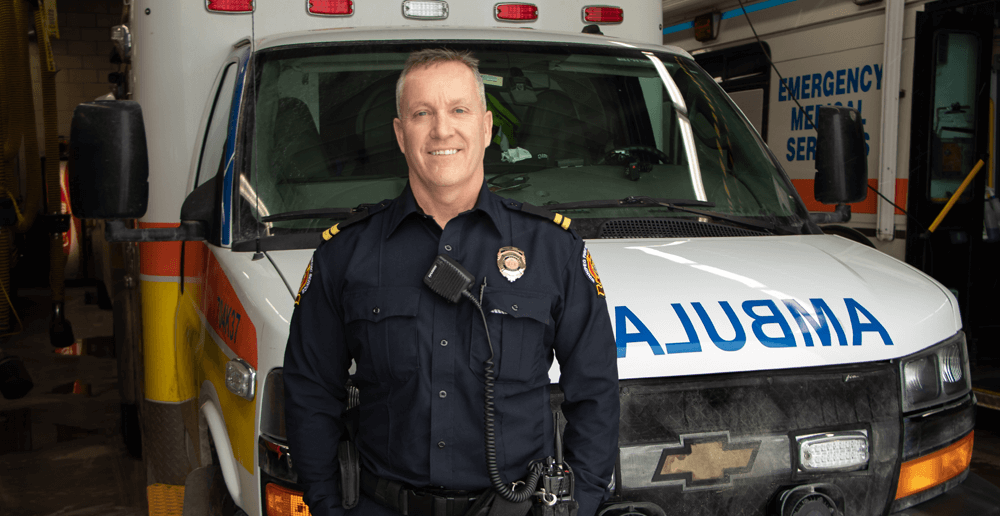 By Ron Keelan
Published Monday, February 28, 2022
I was having a heart attack.
All the signs were there but I didn't think it could happen to me. The reality was, after 20 years of responding to medical emergencies with Winnipeg Fire Paramedic Services (WFPS) as a District Chief of Paramedic Operations (DCPO), I was the one who needed help.
I was in the middle of a hockey game when my symptoms started all at once, like someone turning on a light switch. My arms went numb, from my elbows down, and heartburn set in. I felt it instantly, but thought maybe I'm just tired and dehydrated and I made the decision to play through it. Even with all my medical knowledge, I'll admit my ego got in the way and I was in denial that anything serious might be wrong.
Back in the locker room, my heartburn turned into severe pain and my face went pale. A teammate who works as an emergency physician asked, 'Should I call an ambulance?' I nodded and, in minutes, first responders arrived.
Not only did that call save my life, it also saved my quality of life.
It turned out I was having the most dangerous kind of heart attack. Commonly called a "STEMI", the acronym stands for an ST-elevation myocardial infarction - and it's serious.
Given my profession – I knew (perhaps too well) what was happening. The minute my teammate called 9-1-1 the STEMI Team began their work, starting with the call operator who provided advice and triaged my symptoms. This ensured the right resources were dispatched. The dispatch and response crews assess and react, working together seamlessly like clockwork.
Being the patient was an odd role reversal. When the paramedics arrived, I remember telling them what to do, saying 'I am a DCPO, I think I'm having a heart attack. I'd like you to run a 12-lead ECG, I'll take some aspirin and a nitro spray please.'
Paramedics are highly skilled professionals with specialized training to recognize the signs of a heart attack and to provide resuscitation if needed. Responding paramedics can do an electrocardiogram right away to detect if a patient is having a heart attack. The results are then sent directly to the STEMI cardiologist on-call.
Once my heart attack was confirmed treatment began right away. The STEMI cardiologist and nurses on-call were alerted and began to prepare the Heart Cath lab. Because of the STEMI protocol, I bypassed the Emergency Department and received a stent to unblock my arteries in half the time.
Calling 9-1-1 saved my life and my quality of life. The valuable minutes saved by making that call meant I was treated faster, had an increased chance of survival, and suffered less heart damage, than if I had been driven to hospital, or had chosen to drive myself.
For every hour treatment is delayed, the chances of larger, more severe heart damage or fatality increase by 10 per cent.
Having a heart attack is an emotional experience. You realize your own mortality very quickly. In my case, my right coronary artery was completely blocked and my left anterior descending artery was 90 per cent blocked. I'll always remember my attending cardiologist, Dr. Ducas telling me because of rapid intervention the damage to my heart was trivial. I'm proof that if you receive care quickly, damage will be minimized.
I know if I had chosen to drive, I would not have been as lucky. I'm incredibly grateful to be here today and able to spend quality time with my wife and family. I share my experience with loved ones, friends, acquaintances, and now you. My ask of you is this: if you experience weakness, chest pains, shortness of breath - make the call for help as early as you can.
Today, I'm as active as I ever was. I run, swim and play hockey three times a week. The only difference is with my ego no longer in the way, I make healthier food choices, keep track of my blood pressure, and take prescribed medications to keep my condition in check. After one-year of close monitoring with the Winnipeg Regional Health Authority Cardiac Sciences Program (located at St. Boniface Hospital), I am no longer a cardiac patient. Sometimes I even forget it happened and that's huge!
The decision to dial, not drive, literally saved my life. It can save yours, too.
For more information visit: Manitoba ACS Network (mbacsnetwork.ca).
Ron Keelan is District Chief of Paramedic Operations (DCPO) with Winnipeg Fire Paramedic Services (WFPS).