Allied Health Week Spotlight: Dana Kliewer
Physiotherapist, Pulmonary Rehabilitation / Long COVID Self-Management Group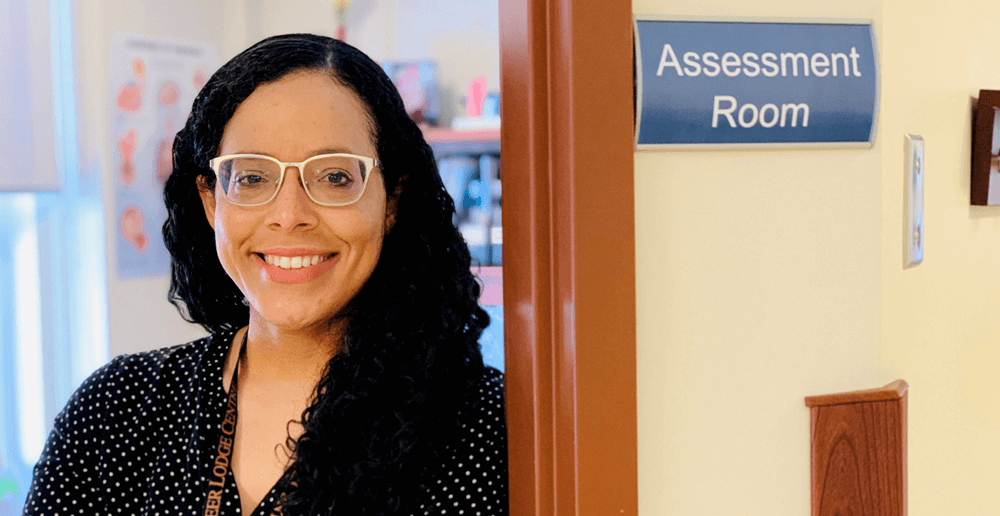 Winnipeg Regional Health Authority
Published Monday, May 9, 2022
What was the impetus for the development of the Long COVID Self-Management Group virtual series?
From December 2020 to now, the pulmonary rehabilitation program has seen an increase in referrals for individuals with Post-COVID Condition (commonly called Long COVID). Clients with Long COVID present with a diversity of multi-system impairments and, therefore, a need was identified for enhanced, multidisciplinary self-management support these clients. Additionally, clients told us they wanted to connect and learn from others with Long COVID.
The Long COVID Self-Management Group provides multidisciplinary rehabilitation for individuals with Long COVID through self-management education and clinician and peer support.
The sessions began on February 15th, 2022 and ran for seven weeks. Seven virtual sessions were held from 12:00-1:00 on Tuesdays.
What did the series offer to those dealing with COVID symptoms? (i.e. what did they learn about).
Participants in the Long COVID Self-Management Group learned about Long COVID, current research, as well as symptom and health management strategies. Fatigue, brain-fog, and shortness of breath are among the most common symptoms. For example, a physiotherapist and respiratory therapist collaborated to provide the session on strategies for managing shortness of breath and dysfunctional breathing. An occupational therapist and speech-language pathologist collaborated to provide the education session on brain-fog, fatigue, and cognitive communication.
The most important benefit of the group from the perspective of the clients was the validation provided for their experience as well as the opportunity for peer connection and support through the use of small breakout rooms.
What is the prevalence of long-term COVID symptoms? Is it common? Are there certain age groups or other categories of patients more susceptible?
Estimates of the prevalence of Long COVID range from 10-30% of individuals infected with COVID-19. Adults of all ages attended the group. Long COVID affects people of working age as well as older adults. Many of the group participants were also health-care providers. Description of Long COVID as a condition is an area of emerging and ongoing research.
What is your role on the team?
I am a physiotherapist and certified respiratory educator (CRE) in pulmonary rehabilitation. Clinicians from the Pulmonary Rehabilitation and Day Hospital programs at Deer Lodge Centre partnered with several interested stakeholders, specifically clinicians from the community MyHealth teams who already run established chronic disease management groups. The recent relevant experience of the pulmonary rehab team with Long COVID clients, combined with the expertise and motivation of the MyHealth team clinicians, resulted in a collaborative pilot group project.
Which Allied Health Professionals took part in the team?
The professional disciplines that took part in the pilot project include physiotherapy, respiratory therapy, occupational therapy, nutrition, social work, speech-language pathology, and pharmacy. There were several representatives from these disciplines participating. Each group session was facilitated by 2-4 clinicians depending upon the session content.
Because of the multi-system effects of Long COVID, having several professional disciplines collaborate in the development of the program was essential. This program was also unique as it resulted from a partnership between a rehabilitation team and primary care. We were able to learn from each other which contributed to a better, more holistic program for the clients. Additionally, individuals experiencing Long COVID were also involved in program development.
What was the feedback from participants?
We learned that there is significant demand for Long COVID rehabilitation. We reached registration capacity within a short time and needed to increase the number of accepted registrants. There is a current wait list for a possible upcoming session.
The sessions were very successful and we were able to provide education on a variety of relevant topics and deliver information in a way that participants could quickly apply. Some participants expressed interest in taking the sessions again to solidify their learning. A common theme was that many were feeling alone and this group let them know that there are others experiencing similar challenges after having COVID.
Clients were very actively engaged in breakout sessions and in chat boxes, sharing experiences, resources and words of support to one another. We received consistent feedback from participants that peer support was very meaningful to them.
A multidisciplinary working group is currently in the process of evaluating participant feedback, enhancing the content of educational sessions, evaluating emerging research into Long Covid, and scheduling future group sessions.
We acknowledge the guidance of the University of Manitoba College of Rehab Sciences Faculty in the development of this project and the contribution of Occupational Therapy Advanced Fieldwork students in collecting research, interviewing stakeholders, and assisting with the development of the educational content.