Rapid Response Nurses take pride in a job well done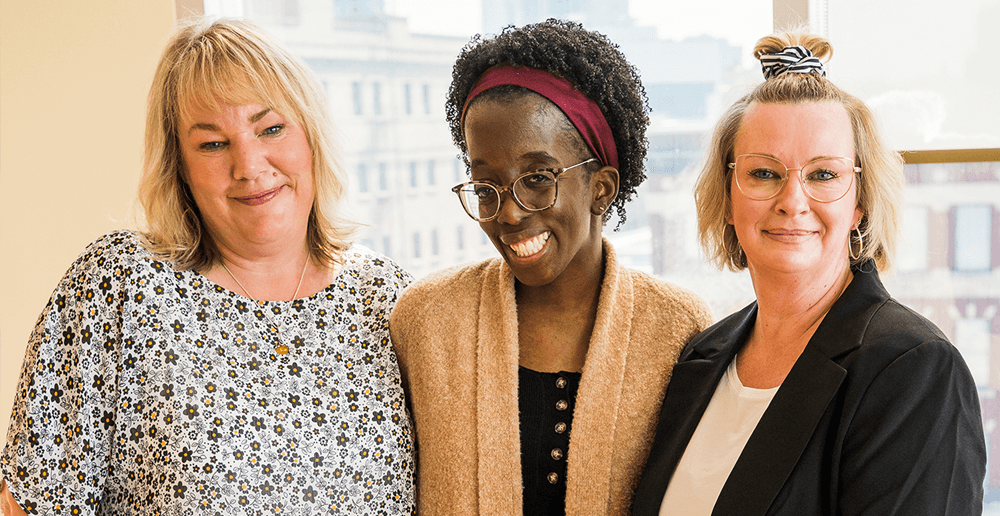 Winnipeg Regional Health Authority
Published Monday, May 9, 2022
It was not only a rapid response, it was the right and equitable one.
For Rapid Response Nurses Karen Taylor, Dawn Siegers and Kayla Brown, working to help ensure their clients had access to COVID-19 testing and vaccinations was a natural extension of the kind of personal care the program was designed to provide.
Rapid Response Nursing (RRN) services provide direct support between hospital discharge and home for clients and families dealing with complex medical conditions. The goal is to support a successful discharge home with prompt interventions aimed at avoiding any unnecessary returns to hospital and to improve the client's confidence to remain safely at home.
"We want to prevent them from being re-admitted to hospital, whether from a new or old diagnosis," Taylor says. "We provide education to help them better manage the complexities of their chronic disease. We help them get services put into place that allow them to stay at home, rather than moving in and out of an acute care facility or having to be placed in long-term care. It helps them maintain their independence, and decreases the burden on our health-care system."
With many clients facing complex and chronic medical conditions such as COPD (chronic obstructive pulmonary disease), heart failure, and diabetes, providing them with the education and tools they needed to remain at home was already a challenge. Then came the pandemic.
"COVID-19 changed our jobs a lot," Taylor admits. "Safety concerns were huge. In the beginning, we were doing a lot of virtual visits and using phone calls for follow-ups. Since that time, it the pandemic has increased our workload immensely, because we have taken on home immunizations and home testing."
In a 27-year career in community nursing, Taylor calls the last two years, "probably my most stressful time in nursing," but, like her RRN colleagues, pitched in to help wherever she could in support of clients who, because of mental or physical hurdles, couldn't make it to the city's major testing and vaccination sites.
That kind of "whatever it takes" focus was something all members of the RRN team shared, Siegers says.
"It's very rewarding to know that we provided greater health equity for those who were homebound or immunocompromised," she says. "We see clients who are often struggling and vulnerable, and whose support network may be minimal or non-existent. We were able to help mobilize the required services to the clients who needed them. It decreased a lot of anxiety."
As the 30-year nursing veteran explains, the team took turns with the various COVID-related tasks required.
"Communication was key," she says. "We would have a morning huddle and divide the day up based on what the needs were. One nurse might be responsible for monitoring and reviewing the referrals coming in, another might handle the vaccines and follow-up visit later in the day, and another nurse might handle the (COVID testing) swabs."
Despite a concerted focus on following guidelines and the use of personal protection equipment, several of RRN team's nine nurses contracted COVID-19 at some point in the pandemic. Whenever that happened, the others closed ranks to ensure clients remained well-served.
"It's sad to know that your co-workers are off because they are sick, and we managed to the best of our abilities," Siegers says. "There's also that fear that you want to maintain your health. I purposely didn't go to family functions or celebrate holidays because I wanted to set an example and didn't want to be responsible for making anyone else ill."
Even now, COVID-19 requires a great deal of vigilance, Siegers says.
"When conducting a visit in-person with a client and possibly their family, you're always conscientious, and I find myself trying to explain to clients that COVID-19 is still a risk, and we need to stay on task and keep our visits short to minimize our exposure and decrease risk - ongoing precautions most of our clients understand and appreciate."
Thanks to the team's professionalism and perseverance, hundreds of clients had much-needed access to COVID testing and vaccines.
That fact is not lost on Kayla Brown who, about 18 months of experience working with the RRN program, is the team's newest member. She says she shudders to think about the difficulties the program's clients may have faced without the team's efforts to provide them with in-home testing and vaccination.
"I can't even imagine," she says. "I'm so proud of our team and our effort. Even in a pandemic, we were able to figure it out make a way to provide access. It's been very rewarding."
With 14 years' experience as a community nurse, Brown knows she has many years ahead of her. But she already certain that these pandemic years will be a career highlight.
"Working with this team is unlike anything I've experienced before," she says. "These women nurses - and, as it happens, we are all women - are so resilient, so fearless and so strong. I routinely see people going beyond themselves for their clients and for each other. How deeply we care for each other and our clients is so visible in the care we provide. It's how we work and it's who we are. That's what makes us a such a special team."