Teamwork drives pandemic response for Grace Hospital emergency department nurses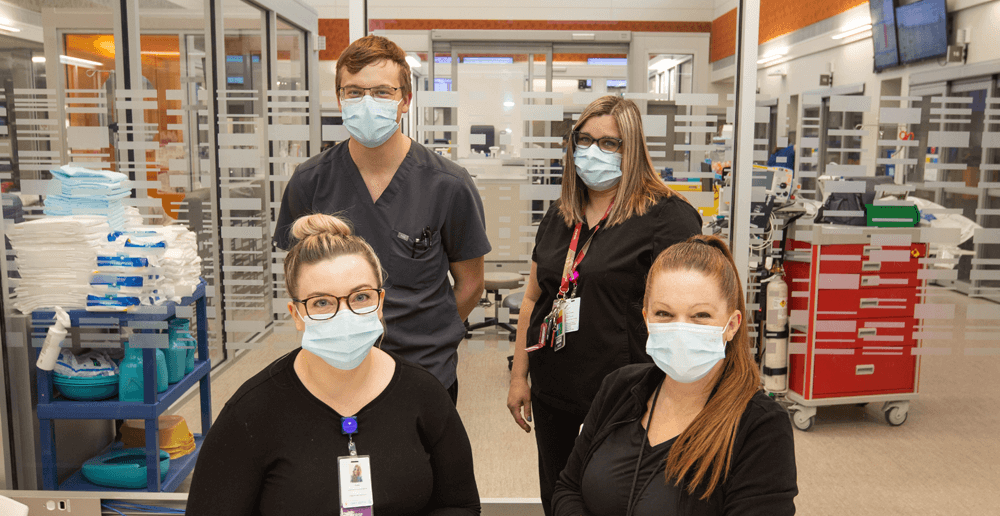 Winnipeg Regional Health Authority
Published Monday, May 9, 2022
Grace Hospital's Emergency Department nursing team features a mix of savvy veterans and talented novice nurses. And like all great teams, they've rallied together when it means the most.
With 20 years of experience under her belt, Emergency Clinical Educator Johanna Wall says that COVID-19 has proven to be among the toughest of adversaries. With increased demand for - and demands on - nurses making headlines nationwide, the nursing team at the Grace has been working hard to keep pace.
"It is a struggle at times, no doubt about it." Wall says. "As we've faced the different waves of the pandemic, there have been challenges that have pulled us in many different directions. From increased patient volumes and changing procedures to visitor restrictions, the pandemic has added stress to an already-challenging job. Whenever we're in those moments where we feel in need extra support, we first come together and help each other," she says.
That's a sentiment echoed by Cindy Astorino, an emergency Clinical Resource Nurse with five years' experience in the emergency department.
"The pandemic has definitely been an adjustment for us," she says. "In the beginning, it was changing every day, and it was scary and uncertain at times. Now that we've been living this for two years, it feels like the new normal, but it definitely did bring new challenges and reinforced the need to work as a team. You really learn to appreciate the value each member of the emergency team delivers, from nurses, doctors, and health care aides, to members of our extended team such as occupational and physiotherapists, housekeepers and dietary staff - every professional that steps into the department."
The pressures faced by all members of the emergency room team hasn't been exaggerated, she adds.
"It's real. What has really come out is just how resilient we are, and how we've learned to adapt to what is now 'a new normal' level of stress."
For the novices on the emergency department's team, the pandemic's "new normal" is the only one they've ever known, says Registered Nurse Shane Gutowski.
"I've only been a nurse for a year and a half, so I have nothing to compare it to besides my schooling, which is no comparison at all," he says.
Rather than lament that "trial by fire," Gutowski says it was something of a blessing in disguise.
"I'd say it's probably one of the best preparations that I could have asked for as an emergency department nurse," he says, adding that addressing public frustration over COVID-related visitor restrictions was particularly difficult.
"Dealing with concerns and the frustration from worried families has been challenging and frustrating, because it's often directed at you as their main point of contact," he says. "That's understandable, but not fair given the safety factors behind the restrictions. We had to reinforce the fact that we were doing our best, and working hard for them and their loved ones."
As a team, the foursome agrees that one of the most challenging aspects of the pandemic has been the high acuity associated with COVID patients whose health status can change from stable to critical in the span of minutes.
In an emergency department hit hard by increased demand, that's meant developing the ability to minimize their grief and quickly turn their attention to other patients who needed their help.
As the newest member of the team, having joined in August, Licensed Practical Nurse Katrina (who asked that her surname not be used) admits that maintaining that kind of professionalism in the face of heartbreak is challenging, even for staff who the public acknowledges as health care heroes.
"It's great that people think of us as superheroes, but I think they sometimes forget that we are also human beings. It's a hard job and it takes a lot out of you. And yes, we chose it, but it's not like we have superhuman abilities. We just work really hard."
Thankfully, they have each other to lean on when times are particularly difficult.
"It can still be stressful, for sure, but I have never once asked a colleague for help and had them say anything other than, 'Yes, I'd love to help you.'"
The team is also thankful for the ongoing support received by the public - everything from supportive shout-outs on social media to meals delivered to hungry and appreciative staff.
"Despite some frustration around visitation restrictions, the public realizes that we are focused on providing the best patient care we can," Wall says. "That's what motivates us, that's what keeps us going, and that's why we love emergency nursing."