National Volunteer Week Profile: Tarjani Patel
Winnipeg Regional Health Authority
Published Monday, April 17, 2023
Tarjani Patel applied to be a volunteer with the Winnipeg Health Region as soon as she turned 16 in 2019.
"I thought it would take months, but I got in really quickly and I was so excited," she says.
When asked what she wanted to do, she said all she knew was that she wanted to work with patients, and so she took an opportunity in water delivery at Concordia Hospital.
"It's hands on, you get to work with a bunch of different people, and I've made so many connections, both with patients, other volunteers and staff," she says.
The connections with patients in particular have a special place in her heart, she says.
"It's so fun to work with them," she says. "You get to know each other, they know I know their 'orders'—what cup they like, how much ice they want—and we appreciate getting to see each other."
"Two women used to call another me and another volunteer 'the water girls,' she says. "They used to say 'Yay, the water girls are here!' One always had candy she would share, and the other would knit—she actually knitted us pins for our vests that I still wear."
Patel continued to volunteer on and off throughout the COVID-19 pandemic, despite the fact that she wasn't able to work directly with patients during that time.
"I asked if there was anything I could do that was safe, and that's how I got into chart recycling for that period," she says. "There were some gaps when cases were high and I couldn't go, but it was nice to still be able to contribute."
These days she's back to water delivery, which she says is helping her prepare for a future career in medicine. She currently volunteers two days a week on top of her full course load as a Health Sciences student at the University of Manitoba.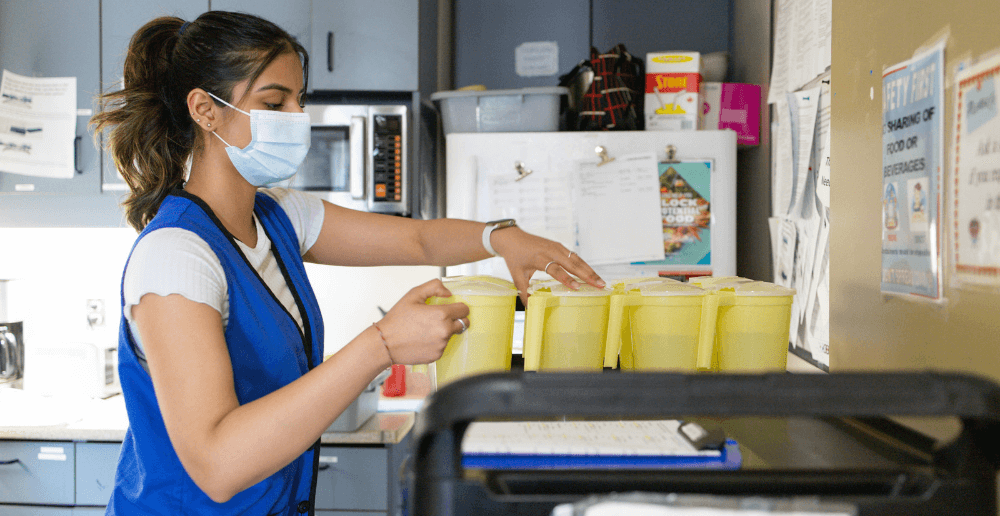 "It's nice to have been able to try out different areas and see what's a good fit," she says. "I've also been really lucky to have gotten research opportunities through my connections with the team here, which is very exciting for me and just another benefit of doing this."
Of all the things she's learned, she says how to work well with patients has been the number one lesson.
"There are a lot of people who are scared of doctors, so I've seen that how you talk to patients, making them feel comfortable and not intimidated, really makes a difference," she says.
"It's been really rewarding to build those relationships, and you see the impact it can have," she says. "People in hospital, they're in a vulnerable position, so when they see a familiar face, that comfort or emotional support or just a smile can help them through."
Volunteers play an important role in supporting the Winnipeg Health Region's values of meaningful community participation and improved health and well being of individuals, families and communities. To learn more about current volunteer vacancies or how to apply to be a volunteer, visit Volunteer Services.