Jennifer De Castro Nguyen & Bryan Akindipe
Clinical Resource Nurses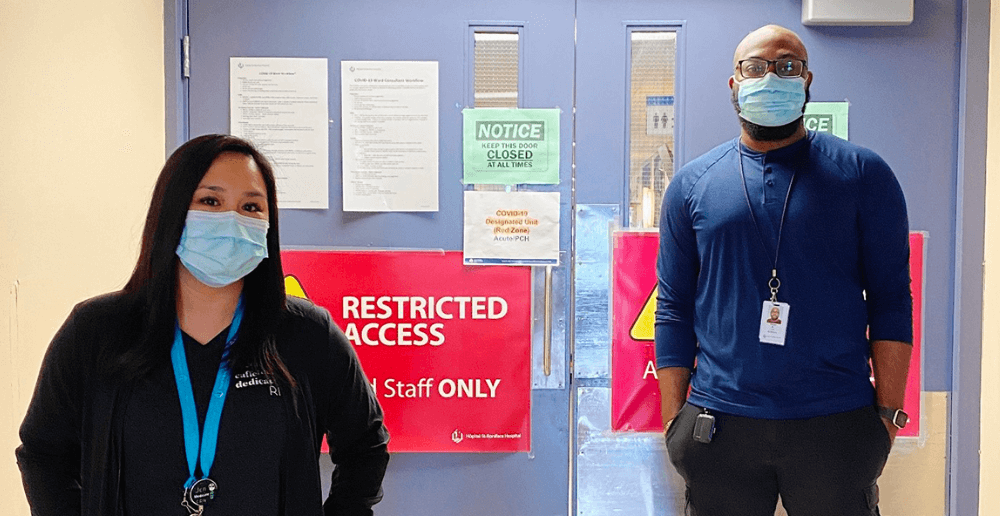 As Clinical Resource Nurses (CRNs) on an Internal Medicine unit at St. Boniface Hospital, Jennifer De Castro Nguyen and Bryan Akindipe have been responsible for providing clinical expertise to nurses and assuming a leadership role in coordinating quality patient care within the health care team. Since the pandemic started, they have experienced a greater demand and strain on their role, going from responsibility for one medicine unit to two - a COVID-positive unit and a COVID-suspect unit.
The shifting demands of the pandemic have necessitated a move of their units on four occasions, leading to a fluctuation in the number of patients on the unit, as well as their acuity. As leaders, they have both had to put increased effort into boosting staff morale, and supporting patients and their family through difficult and stressful circumstances - an effort their colleague, Stephanie Nunes, called "nothing short of heroic."
Both CRNs admit that the logistics of the moves were a significant challenge. Factors such as individual patient care needs, isolation precautions, and functional status all had to be considered for each move. Precise coordination with the bedside nurse providing care was necessary to ensure seamless continuity of care, while avoiding any adverse effect. Patients and their family members also had to be notified and supported through the moving process as well.
"We always ensured that we make the transition as smooth as possible for everyone involved, with the patients being our first priority," De Castro Nguyen says. "Coordinating the moves would have been impossible if not for the teamwork and dedication of the Program Team Manager (PTM) and all of the nurses, health care aides, ward clerks and clinical education instructors (CEIs) that work on the units. They have all been amazing in helping to make the transitions quick and efficient."
Akindipe agrees, adding, "The commitment, dedication and compassion of all the staff at St Boniface Hospital has been most inspiring. They have ensured the quality of patient care has not been negatively impacted in spite of the pandemic. We would particularly like to recognize the PTM and all of the staff of B-Medicine at St Boniface for their unwavering commitment, and for all the personal sacrifices they make every day."
De Castro Nguyen says that while these past 16 months have been difficult for everyone, teamwork continues to see them through.
"We talk, we vent, we cry, we laugh a lot, and do whatever is needed to support each other through this stressful time," she says. "Working as a team and supporting each other has helped each of us along the way.
Akindipe adds, "As CRNs, we have taken it upon ourselves to not only support the staff in ensuring quality care is provided to every patient, but to also support the emotional needs of our staff and patients' family members. Times like this remind me of the words of Theodore Roosevelt, who said that, 'The credit belongs to the man who is actually in the arena, whose face is marred by dust and sweat and blood; who strives valiantly.'"