Nurse Practitioner making most of opportunity to help build on Churchill's resiliency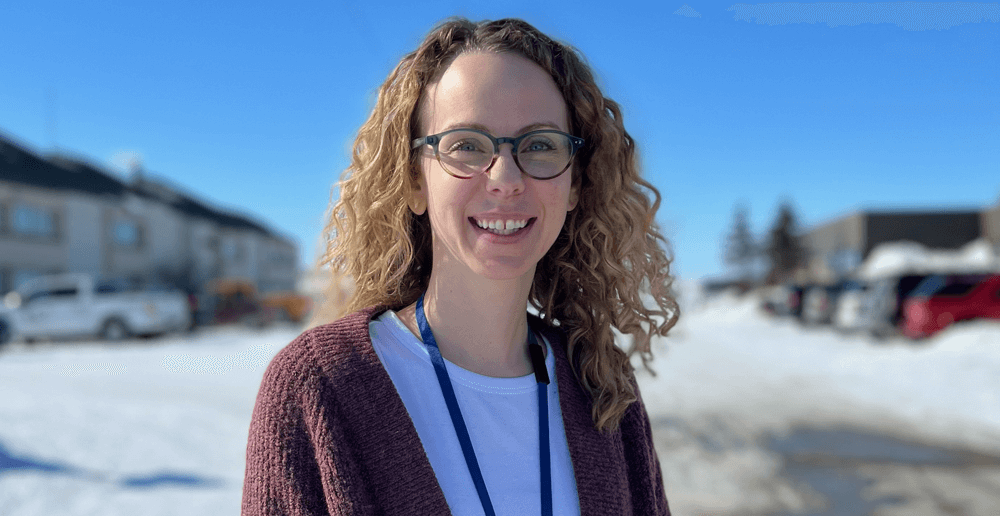 Winnipeg Regional Health Authority
Published Monday, May 9, 2022
The residents of Churchill are a resilient bunch. Through frigid weather, rail disruptions and, most recently, a COVID-19 pandemic, the town's 830 residents have developed a well-earned reputation for sticking together and helping one another through life's unexpected challenges.
It's that sense of community and self-reliance that formed the basis of Janaya Palsson's decision to take up residence in the "Polar Bear Capital of the World." Having accepted a position as Community Mental Health Nurse Practitioner at the Churchill Health Centre (an operating division of the Winnipeg Regional Health Authority), Palsson officially made the town her home in August of last year.
"I visited Churchill about four times before moving here, and there was always something about this community that spoke to my heart and soul," she says. "There is so much opportunity and potential. For me as a mental health professional, it's just a matter being present to help people along their journey."
A key focus for Palsson and her extended team is the continued development of programs offering peer support. That includes the new Warrior Caregiver Program, a land-based education program for men developed through a partnership between the Subarctic Friendship Circle (a community service club operated by the Churchill Health Centre), and Movember Canada, a leading charity working at changing the face of men's health. The aim is that by offering land-based workshops on traditional activities such as hunting, camping, trapping, boating or dogsledding, more men in the community will be able to gain the structure they need to feel better connected, build their resilience and share knowledge with their families and the community.
Providing information and education about effective coping strategies is also a significant need in the community, Palsson says, particularly in cases of long-term trauma.
"I work with a lot of Indigenous people, most of whom are residential school survivors or who have family members who attended residential schools, so there's a lot of intergenerational trauma," she says.
"Sometimes, people who have been through that sort of trauma use substances to cope, and can benefit from addictions counselling, peer support and by learning healthier coping mechanisms." And, as with all communities, Churchill residents sometimes also need help with mental health challenges such as anxiety and depression.
"That can include situational stress, or underlying anxiety and depression that has yet to be addressed because the individuals never felt they could speak to anybody about it," Palsson says, adding that people don't always feel comfortable discussing mental health concerns with their family physician.
"So, just to have mental health services and programs in the town has been beneficial," Palsson says. "We have people with significant mental health concerns, as well as those who might just need to come in and have a good chat and feel like somebody is listening to them. My office is a space for people to come and share whatever they need to share."
Though her training is in mental health, Palsson says that she's part of a team that takes a holistic approach to improving health outcomes in the community.
"In addition to physicians and nurses, we have a social worker who engages in case management and counseling sessions. We have an addictions counselor who's well-versed in domestic violence programming. We have a recreational therapist who works with people of all ages. Working in a small town, a health-care professional might wear many hats, and you'd be surprised at some of the roles our staff take on."
Recognizing that there are many social determinants of health, staff also work with government programs and outside agencies including the RCMP, Manitoba Housing, Child and Family Services, the Churchill Wellness Centre and The Knowledge Keepers (a local community group that includes representatives from Inuit and First Nations communities) in support of local residents.
For her part, Palsson says, she's happy to lend her expertise to other members of the team wherever and whenever it's required.
"I feel like I'm a part of everybody's team," she says. "I'm a part of the nurses working on the ward. I'm a part of the physicians in primary care. I'm a part of the mental health team. So, it's nice to be a person who can be a mental health resource for everybody, and to contribute to better overall health outcomes."
With not quite a year in Churchill under her belt, Palsson feels she still has a lot of learning in front of her.
"I'm only just getting my feet wet," she says. "I'm still building what I'm calling my resource toolkit, but I think that our local mental health program is evolving into something special. The Churchill Health Centre has been very supportive."
All things considered, Palsson says her choice to move to Churchill has been personally and professionally satisfying, and she's had no second thoughts.
"I don't regret it one bit," she says. "It was a great decision."