Social Work Month: Helping clients piece together the puzzle
By Kelly O'Brien
Winnipeg Regional Health Authority
Published Tuesday, March 14, 2023
When you or someone you love has experienced a significant health event, coordinating the necessary care and resources to support recovery can feel like putting together a puzzle—except you don't have a box to show you what the end product should look like or how many pieces there are.
That's where social workers come in.
Jasmine Masse is a social worker with the Community Stroke Care Service, which supports clients in the Winnipeg Health Region with community-based rehab following a stroke. The team is a specialized service of the WRHA Home Care program, and on the frontline includes Physiotherapists, Speech Language Pathologists, Occupational Therapists, program-specific Case Coordinators and Rehab Assistants. As the team's only Social Worker, Jasmine provides assistance with coordinating supports for finances, housing, mental health and other care needs, as well as providing support for caregivers.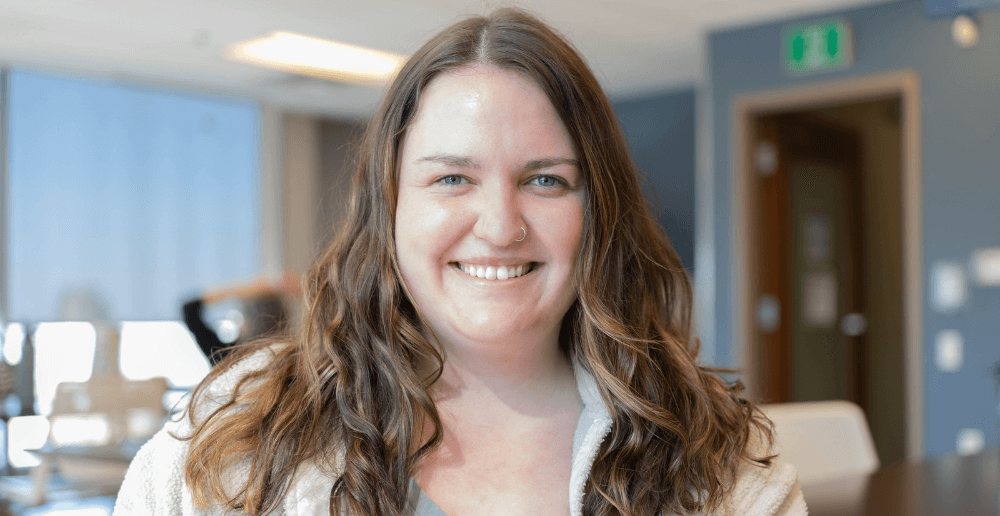 "Following a stroke, big lifestyle changes are often navigated, and that change can be overwhelming on its own, so it's really important that our clients have support going through that," she says.
While there are few Social Workers who work specifically with stroke patients—in addition to Jasmine, there are two who work within inpatient neuro-rehab and one in an outpatient setting—there are Social Workers in nearly every area of health care whose work is similar to Jasmine's: they support patients, clients, residents, families and their caregivers in navigating available services and resources, as well as the system overall.
Because of this, they play an essential part in access and flow, especially as capacity continues to be a challenge across health care sites and services.
"Ours is a short-term program—typically we're working with clients for 3-9 months—but it's a crucial part of the system-wide approach to stroke care," she says. "We help people stay out of hospital, leave the hospital sooner and recover in community."
And if you don't know whether a Social Worker is available in your area or for your care needs, all you have to do is ask.
"Most people don't know to ask, and it's important they do because we're there and we're willing to help," she says. "With each new situation, you see what resources are out there, and Social Workers hold the knowledge and skills needed to connect with them. We're there, and we're the ones who can work with you to put the pieces together."
March is Social Work Month in Canada. For more information, visit www.casw-acts.ca.