Physiotherapy Month: Keeping Simkin Centre residents moving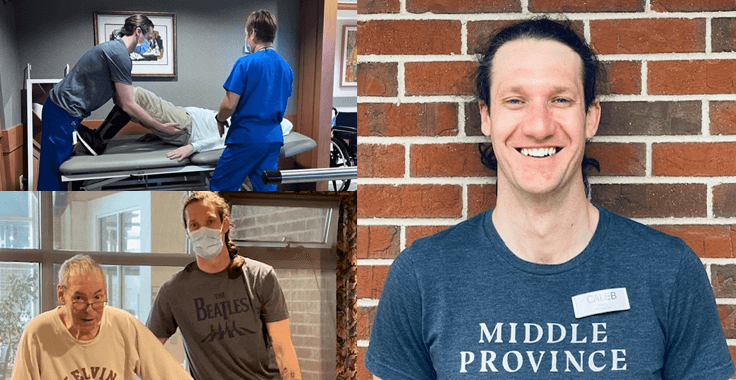 Winnipeg Regional Health Authority
Published Thursday, May 11, 2023
Caleb Smith's focus in his work as a physiotherapist has always been helping people get and keep moving.
When a position recently opened up at Simkin Centre Personal Care Home, Smith says it was a unique opportunity to live that ethos.
"With a population like the one at Simkin Centre, or any personal care home, physical function is the underlying cause of a lot of the concerns they have," he says. "So my role is to work with them on how to maintain and improve their physical functioning, specifically when it comes to the tasks and activities of daily life."
The Stevenson Review, published in early 2021, made 17 recommendations to strengthen the care provided in all personal care homes in Manitoba. One of the recommendations was to increase direct care staffing in personal care home settings. Allied health staffing increases were also recommended, so that residents would experience improvements in quality of life as well as in direct nursing care.
Simkin Centre chose to allocate the funding provided for additional allied health professionals to a full-time physiotherapist position.
Smith says adding a full-time physiotherapist to a personal care home setting is an important part of maintaining and promoting autonomy among the residents.
"I think a lot of people have this idea that when you go into a personal care home, there's only decline, and there's no more independence, and that's not the reality," he says.
No matter their level of mobility or their movement goals, Smith says physiotherapists are there to meet clients where they are to improve their quality of life.
"At the end of the day, this is their home, and we want the residents to thrive here," he says. "Whether it's going to bathroom, sitting and standing, or lifting a glass, when a movement is one of the last things you can do independently, it becomes very important to you, and we want to support that however we can."
Smith says allied health professionals bring a unique perspective to any health care setting, and the COVID-19 pandemic highlighted the need for more people and perspectives across the system.
"I don't know whether physiotherapy specifically is the answer, but we've seen here more hands and more people with different backgrounds and areas of expertise is better for residents," he says.
"Simkin Centre has allowed me to be creative in my approach to my work, just like they do with their residents, and that really opens the doors for other staff here, as well as other staff throughout the community, to do the same."