Maureen MacDonald
Nurse Practitioner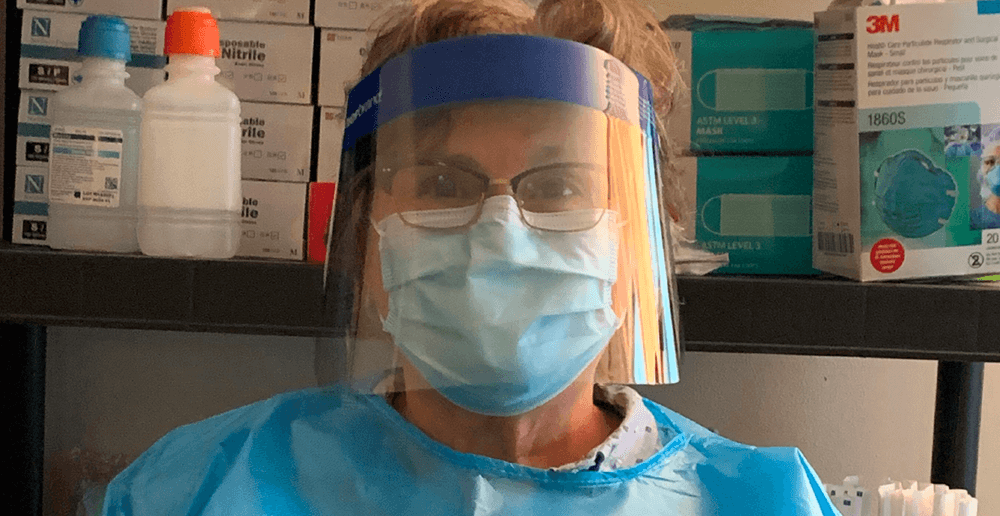 After a 28-year nursing career, Maureen MacDonald was looking forward to a well-deserved retirement, but when the COVID-19 pandemic hit, she decided retirement could wait, opting instead to respond to the call for "all hands on deck".
At the time, she was part of the dedicated team at the Aikins Street Community Health Centre in Winnipeg's North End, but volunteered for redeployment as Clinical Lead at a (then) new testing site and assessment clinic at Sergeant Tommy Prince Place - one of a number of Nurse Practitioners across Manitoba who were at the forefront of running the initial testing sites and assessment sites.
Since that time, MacDonald has worked in various roles on the front lines of the COVID-19 fight that have taken her one end of the city to the other.
"Wherever the need was, I went to help out in whatever way I could," she says.
Since December, she's been working at the downtown alternative isolation accommodation (AIA) site, work she says has been among the most rewarding of her long career.
"It's been wonderful seeing the various community groups coming together in support of vulnerable populations," she says, crediting organizations such as the Health Outreach and Community Support (HOCS) program, Doorways Winnipeg, Main Street Project, Mt. Carmel Clinic, ACCESS Downtown and others for stepping up in various ways to meet the needs of the community in these challenging times.
She also credits the clients these agencies serve for their resilience and fortitude during the pandemic.
"I've never worked at the grassroots level quite like I am now, and the clients are amazing," she says. "They are just so appreciative."
MacDonald is also quick to recognize the efforts of health care heroes who, while not working directly on COVID-19 initiatives, have "kept the home fires burning" in terms of making sure the health-care system continues to operate efficiently throughout the pandemic.
"They are unsung heroes and the 'Steady Eddy's' that are keeping the health-care system going," MacDonald says. "It's their daily dedication and hard work that have provided the foundation that's allowed some of us to be redeployed to focus on the fight against COVID-19."
Dr. Kerrie Wyant, a family physician and Site Medical Lead at the Aikins Street Community Health Centre and Co-Medical Lead of the Thunderbird COVID Testing and Assessment Site, nominated MacDonald for recognition as a health care hero, describing her as "an astute clinician, organizational expert, and treasured colleague" who has contributed "leadership and organizational skills which have been invaluable" in helping to shape efficiencies at the various sites at which she's worked.
For her part, MacDonald says she's simply been doing what she can.
"It's my calling more than anything else," she says, adding that there's plenty of credit to go around.
"Throughout this journey, I've had the honour of meeting and working with people from all walks of the WRHA and Shared Health. There are heroes everywhere. Some weren't used to working on the front line but came forward and said, 'I'll do my best.' We've been able to work together, and nobody is above anyone else. It's been a total team effort."