Making home a priority in healing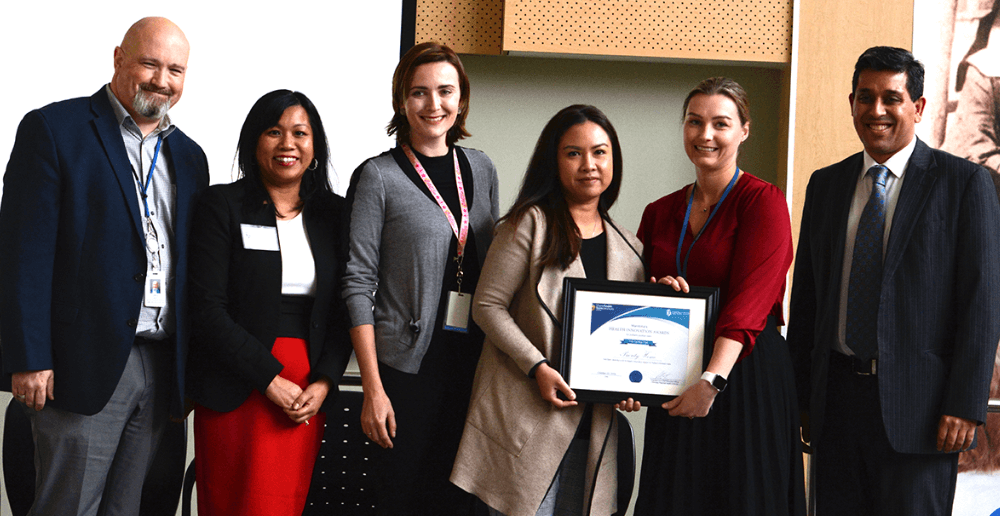 By Mike Daly
Winnipeg Regional Health Authority
Published Tuesday, October 22, 2019
When it comes to healing, there really is no place like home.
In November 2017, the WRHA launched Priority Home, an innovative transitional home care service designed to support individuals at home who might otherwise be prematurely placed into long term care from hospital or community.
The program is focused on keeping patients – specifically high-needs seniors – safe in their homes for as long as possible using community supports. It's officially described as a short-term (up to 90 days) transitional, intensive, and restorative service available to eligible individuals who may need:
intensive case co-ordination
health-care aide or home-support worker assistance
rehabilitation services (occupational therapy, physiotherapy, social work, speech language pathology and rehabilitation assistants)
other home care supports
In recognition of program's  success, Priority Home Services has been named one of three winners of the 2019 Health Innovation Award for Patient Centred Care, which recognizes initiatives "that have directly resulted in positive improvements to processes, clinical approaches, and the culture of patient-centred care."
Team Manager Stefanie Turner says that a client-centred approach is really at the heart of the program.
"We really concentrate on what's best for the client and their family at all times," she says. "Evidence shows that once a client's acute medical needs have been addressed, the longer they stay in hospital, the more likely they are to lose muscle strength, acquire an infection, or fall.  So clients tend to fare better if we can get them home and work with them in that environment. That's where they are comfortable, especially if there is cognitive impairment that comes into play. They know their home. They know where everything is. They feel comfortable there."
Priority Home Services was introduced in order to provide the "right care, in the right place, at the right time," to support individual's desire to return or remain in the community and to help improve patient flow in acute care facilities.
"Our Case Coordinators spend as much time as possible communicating and liaising with clients and their families," Turner says." And because we have the ability to have slightly longer visit duration times than you might see in other forms of home care, we can often better tailor services to our clients' needs. Using a restorative approach, we can encourage clients to do as much for themselves as possible, helping them work towards greater independence. Where that's not possible, we can provide families with strategies to better address functional or cognitive concerns at home."
For Marichu Tamondong, a registered nurse whose father, Abelardo, became a Priority Home client in late 2017, the new program was a welcome option.
"Care needs differ on a case-to-case basis, but for us, the support offered by Priority Home, combined with what we are able to do as a family to provide support for my dad in the home, has worked wonderfully for us," she says. "In all honesty, I think if he had stayed longer in the hospital, I don't know if he would still be here. He wasn't thriving, and I think being in the hospital was wearing him down physically, emotionally and mentally. It's not that he wasn't receiving quality care, but being in his own environment made a real difference to him. He has a lot of family who want to visit and support him in the home."
Turner says that winning the 2019 Health Innovation Award for Patient Centred Care has been a welcome surprise for the Priority Home's multidisciplinary team.
"A lot of people have put in a lot of hard work, dedication and commitment on this program and I think the award was a great way to acknowledge that hard work. In making the program the success it has become over the last two years, staff have gone above and beyond. This award is confirmation that what we're doing matters and that it's recognized and appreciated, not only by clients, but within the health care system as well."