Therapeutic Recreation an important part of pandemic response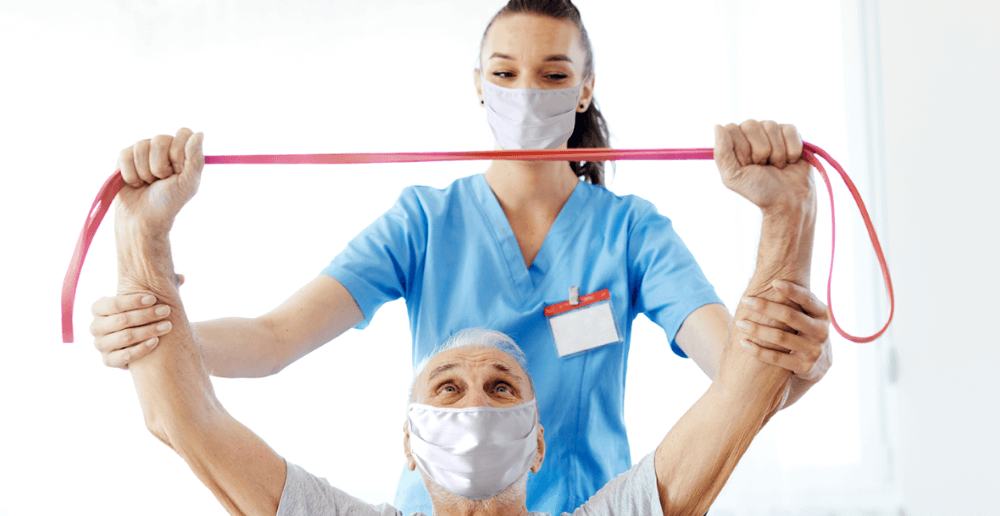 By Wendy Paul-Ballard
Winnipeg Regional Health Authority
Published Monday, February 8, 2021
If you're feeling - and let's face it, we all are - that the COVID-19 pandemic is cramping your style, imagine what it's like for residents in the province's many long-term care facilities.
Thankfully, these residents have a valuable ally: recreational coordinators and facilitators.
Contrary to certain depictions, therapeutic recreation is about much more than coordinating crafts and bingo. Recreational Coordinators and Facilitators plan, direct, and coordinate, recreation-based care plans for each resident that help maintain and/or improve emotional, cognitive, physical, social, and spiritual well-being.
For the residents they serve, recreational facilitators offer daily reinforcement of the fact that their lives are valuable at any age and ability, and that they have the right to exercise choice in their activities and care. Many of these facilitators work primarily with elderly residents, but also with younger people residing in long term care.
As we celebrate Therapeutic Recreation Month in February, it's worth taking a closer look at the therapeutic benefits of recreation, and how that role has changed during the current pandemic.
Though COVID-19 has made the practice of therapeutic recreation more difficult, it has also provided the impetus for innovation, including the introduction of video chat technology and devices.
Here at Deer Lodge Centre, we recently purchased a 900-litre aquarium stocked with 40 fish, with funding courtesy of the Deer Lodge Centre Foundation, which provides many of our residents a much-appreciated opportunity for quiet contemplation and relaxation.
While the necessity for physical distancing has curtailed large gatherings of residents, we have been able to emphasize activities that can be conducted virtually, or in small groups where appropriate distance can be maintained. For instance, live music, which used to be offered in-person several times per week, is now offered on screen, both on tablets and on large televisions in group areas. Music videos are also a mainstay.
Activities such as floor curling - which features wheeled curling rocks residents push with brooms - are popular with residents and provide easily distanced social interaction through friendly competition while helping with concentration, and the maintenance of muscle tone and motor skills. Appropriate infection control practices including the sanitization of equipment are completed before and after use.
Additionally, as recreational facilitators, we're able to employ a number of strategies to help residents maintain cognitive abilities. Here at Deer Lodge, calendars posted on the units help provide what we call a "reality orientation" with respect to the passage of the days and seasons. Events such as Valentine's Day are celebrated and often put residents in touch with cherished memories. Discussions relating to yearly events such as Black History Month and Louis Riel Day provide an opportunity for learning and cultural recognition. Other activities such as reading, reminiscing, card games, and trivia also help keep residents engaged with family, peers and staff, and are are especially important for people in the early stages of dementia.
It's important to note that activities aren't offered in a cookie-cutter, one-size-fits-all manner. Rather, they are tailored to the individual based on a careful assessment of their therapeutic needs and personal preferences. Through our Life Stories program, residents' backgrounds are recorded and posted to better familiarize staff with the residents they serve, allowing for a more personalized standard of care.
Finally, while in-person contact with family is limited, all members of the team know how important it is for our residents to connect with loved ones. Wherever possible, we continue to encourage and promote limited contact with designated family members while using technology - including the very popular DLC Family Connect Program allowing for video calls - to connect with loved ones who are unable to visit either because of distance or COVID restrictions.
That social interaction is a vital component of an overall therapeutic approach guarding against prolonged social isolation that can result in loneliness, depression, and anxiety. Virtually all of Manitoba's hospitals and long-term care facilities have made substantial investments in tablets and smartphones (including access to the Internet) to make this contact possible.
The best part is that all of these activities, and more, have continued to be possible during the pandemic as a result of strong infection prevention and control measures and stringent adherence to preventative practices. Residents and staff are monitored for symptoms, and immunizations are well underway, with more than 90 per cent of Deer Lodge Centre residents having received the first of their COVID-19 shots. Staff are well-versed in hand hygiene to support residents and themselves, as well as in the use of personal protective equipment (PPE) that guards against transmission.
Recreation coordinators and facilitators are also adept at employing their most important skillset: compassionate care. Often, you'll find them taking the time to hold a resident's hand or listen to a life story. The job they do extends beyond the physical being. For residents and their families, it offers hope, meaning, and the assurance that we're going to get through the pandemic together.
Wendy Paul-Ballard is a Recreation Facilitator at Winnipeg's Deer Lodge Centre.