Dietitians can help you "find your healthy"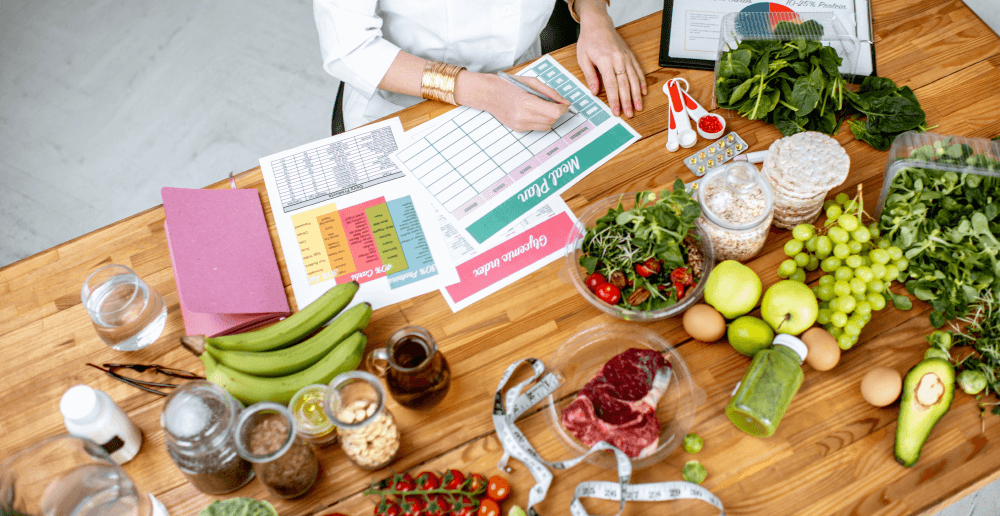 By Aimee Bowcott
Winnipeg Regional Health Authority
Published Tuesday, March 23, 2021
When it comes to good nutrition, there is no quick fix and no "one size fits all," but that doesn't mean you have to go it alone.
Manitoba's registered dietitians are health professionals who can provide the individualized nutrition advice you need to help make healthy food choices.
With March being Nutrition Month, it's a good time to remind you that you're an individual with your own nutritional needs, life circumstances and food preferences. So it's you - not your friends, not your favorite celebrities, and not the proponents of the latest fad diets - who is in the best position to judge what works best for you.
You may find it refreshing to know that a dietitian's role is to support you rather than telling you what to do. Put another way, dietitians will push back against notions of "a healthy meal" or "food rules" in favour of helping you "find your healthy" (this year's theme for Nutrition Month). Good nutrition is about nourishing your body to be able to do the things you need to do each day.
Many of today's dietitians understand that food choices are personal, and that there are no good or bad foods. They also understand that there are many factors at play impacting your food choices. These can include factors such as age, gender, lifestyle, cultural considerations and your current health. Chronic health conditions such as diabetes, hypertension or cardiovascular disease require careful consideration in finding what healthy eating looks like for you.
The reality is that we should be basing our nutritional choices on science, and on how each of us can best incorporate that knowledge into our daily lives.
Dietitians advocate in favour of whole foods, which can be defined as foods that have not been processed or refined. (These can include fruits, vegetables, legumes, nuts, seeds, whole grains, meat, fish and eggs.) They may advise limiting convenience and fast foods with lower nutritional value. But here's the kicker: even the best nutritional plan is useless if it's so inflexible and bland that you can't stick to it. For a nutrition plan to work, it has to be realistic and based on what's going to work for you at this stage of your life.
Food is supposed to be tasty. It's supposed to be fun. It has to fit our lifestyles. It should come as no surprise that even dietitians enjoy a good cookie from time to time, or treat themselves to some chocolate. That's because - like you - we're people, not robots. We enjoy food as much as anyone.
Here's another piece of easy-to-digest professional advice: learn to tone down the self-judgement and practice a lot more self-compassion. I like to call that taming your inner bully. Instead of emphasizing your scale weight or appearance, focus on your achievements such as having more energy, better sleep or maybe even a reduction in medications regardless of weight change. Don't forget to be careful of how you are talking to yourself, because you are listening!
Generally speaking, if you're hungry, eat; when you're full, stop. Learning to listen to those internal cues is what dietitians call intuitive eating. This helps honour your health and your taste buds.
Remember that there is no single path to better nutrition, which is why dietitians like to take a holistic approach that addresses your needs as an individual. Rather than trying to restrict yourself to "healthy" foods you don't like to eat, aim at creating a plan that embraces a variety of foods you enjoy. By doing so, you're much more likely to find a workable path toward better nutrition.
Likewise, try to avoid making drastic changes to your diet. Many of our most successful clients have had more success making small changes - "baby steps," if you will - that steer them closer to their goals. The goal is progress, not perfection.
Again, a dietitian will take the time to help you determine what works for you.
Manitoba's Dial-a-Dietitian service is a convenient method for connecting with a dietitian. During the COVID-19 pandemic, Dial-a-Dietitian calls are being answered by Health Links - Info Santé nurses who will put you in touch with a registered dietitian. In Winnipeg, call 204-788-8200, or call toll-free at 1-888-315-9257.
The best time to start on a path to better nutrition and to "find your healthy" is today. To learn more, visit unlockfood.ca or follow Dial-a-Dietitian Manitoba on Facebook at http://www.facebook.com/dialadietitianmanitoba.
Aimee Bowcott is Regional Manager, Clinical Nutrition- Community with the Winnipeg Regional Health Authority.
How A Dietitian Can Help You
By translating medical and nutrition information into practical advice to improve the way you feel and eat
By providing individualized nutrition advice to help you find your healthy
By helping prevent or manage chronic conditions like diabetes
By supporting your nutrition needs from infancy through to healthy aging and everything in between
Where to find a Dietitian
Dial-a-Dietitian offers Manitobans a convenient option to access credible information from registered dietitians about healthy eating, food, and nutrition and about affiliated services throughout the province.
Have a question about nutrition and eating healthy? Dial-a-Dietitian Manitoba is here for you! During the COVID-19 pandemic, Dial-a-Dietitian calls are being answered by Health Links - Info Santé nurses who will put you in touch with a registered dietitian. In Winnipeg, call 204-788-8200 or call toll-free at 1-888-315-9257.
Follow Dial-a-Dietitian Manitoba on Facebook at facebook.com/dialadietitianmanitoba
Find a Dietitian at wrha.mb.ca/nutrition/dietitian/