Victoria Hospital celebrates 50 years on Pembina Highway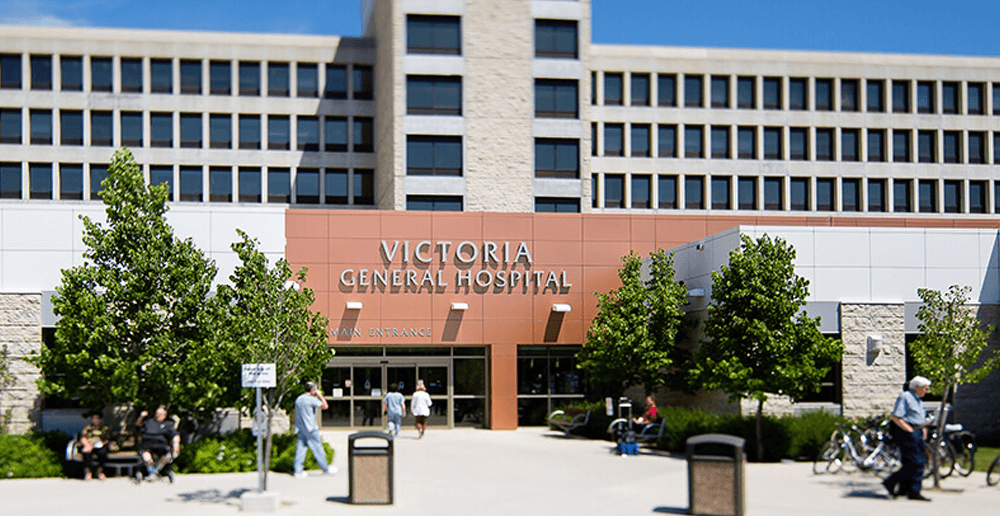 By Rachel Ferguson
Winnipeg Regional Health Authority
Published Monday, October 18, 2021
Dr. Thomas Beath was only 43 years old when, in 1911, he built a hospital in Osborne Village and named it "Victoria Public Hospital". With help from a board of directors, Dr. Beath achieved his vision: a modern five-story hospital on the corner of River Avenue and Bole Street. The new hospital cared for the community and opened its own school of nursing. Archived pictures show that the hospital was a busy place, and stories tell of the strong impact it had on those it served. The building still stands, now repurposed as an apartment building.
The Vic's second chapter began 60 years later; in 1971 the entire operation moved to our current location at 2340 Pembina Highway. The new building was designed in keeping with the evolving practice of medicine. Open wards were replaced by smaller rooms and better ventilation, the new operating rooms allowed for more sterile practice, and efficient technology was introduced such as overhead paging and built-in oxygen. The ample parking and beautiful grounds were welcomed by patients and staff.
Despite the challenges of the pandemic, we are taking a few minutes this week to celebrate 50 years in our current home. I believe that our five decades on Pembina Highway have been true to Dr. Beath's vision of serving the community. We have kept the focus on patient safety and comfort, and our practices are regularly updated to reflect new research findings. We still value healthcare education, and welcome students from many disciplines. Over time we have come to define ourselves by this phrase: "Small hospital. Big heart. Clear Vision."
But it takes an enormous team to make that possible. Our staff are phenomenal. Once we hire them, they often settle in. Carolyn Berard recently retired from her position as Manager, Diagnostic Services, after a 32-year career with us. Carolyn says, "I never had to handle a situation alone, there was always such a supportive team. It feels like a family, and that makes a huge difference in what you can achieve and how much you enjoy your job." We currently have about 1,200 staff, physicians, and volunteers as part of the family, and I am immensely grateful to the entire team, past and present.
The volunteers at The Vic have been an important part of our legacy. They also tend to show great commitment and longevity. Kay Ames has been at The Vic for 33 years: five as an employee, and 28 as a volunteer. "I have worked with so many extraordinary people", she says. The culture of the hospital is really warm and friendly; I appreciate the way staff and volunteers work together to improve our patients' health and wellbeing." In addition to working with patients, our volunteers run a phenomenal gift shop, and profits are used to enhance patient comfort.
When we came to Pembina Highway, a foundation was formed to allow for future growth. Over the years, Victoria General Hospital Foundation has supported many initiatives through our community's generosity. They have been valued partners on significant redevelopment projects, including our Urgent Care Department and the Buhler Cancer Centre, and they invested in our fabulous Miracle Garden, which have all served our patients and community well. Today, The Vic Foundation remains committed to enhancing patient care and improving the health and well-being of our community with a focus on mental health and the care of older adults.
With the implementation of Winnipeg Regional Health Authority's clinical transformation plan, Victoria Hospital is now starting its next chapter. We are excited to be Winnipeg's largest day surgery provider, and proud to be the home of the provincial bariatric surgery program. It is an honour to be a significant provider of mental health services. Caring for low acuity medical patients plays to our strengths, we enjoy our new role in geriatric rehabilitation, and our Urgent Care Department makes us proud every single day. In preparation for this third chapter, we have recently upgraded all our inpatient units and many of our clinical and support departments with financial support from The Winnipeg Regional Health Authority, our Volunteer Guild and the Foundation. We feel ready for the next part of the journey!
On that opening day in 1911, I doubt that Dr. Beath could have imagined where we would be in 2021. But I think he would be terribly proud. The innovation, compassion, and spirit of Dr. Beath is still evident in those who carry on his legacy at Victoria Hospital.
Rachel Ferguson is Chief Operating Officer of Victoria Hospital.