Winter walks are worth the challenge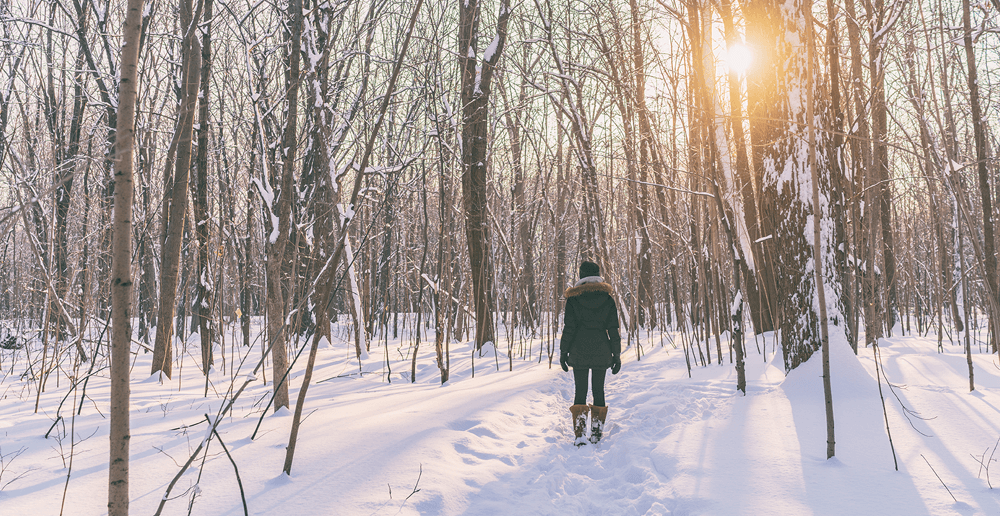 By Cynthia Menzies
Winnipeg Regional Health Authority
Published Monday, January 24, 2022
If you want to beat "cabin fever" during the winter, you have to get out of the cabin.
One of the easiest and most affordable ways to do that is to go for a walk. And while potential hazards such as icy surfaces and hard-packed snow can pose a fall risk for even the most sure-footed among us, it's important to remember that safe winter movement is possible by being prepared.
Wellness experts will tell you that outdoor movement (including walking) is one the best ways of improving your overall well-being. This is particularly important during the long months of a Manitoba winter, where shorter days and frigid temperatures can contribute to weight gain, reduced physical fitness and a higher incidence of seasonal affective disorder (SAD), a specific type of depression.
When the air is crisp and the ground is covered with snow, there's nothing like spending time outside to enjoy the beauty of the season. To put that another way, winter is a great time to participate rather than hibernate.
For most people, walking is accessible, affordable, and enjoyable. With a few simple precautions, it can be a safe and effective way of getting where we need to go, even in winter. Consider these tips:
Let others know where you are going and/or move with a friend.
For warmth and stability, wear lightweight winter boots with that are well-insulated and waterproof. Choose boots with a thick, non-slip tread sole made of natural rubber, and with wide, low heels.
Consider using a trekking pole (similar to a ski pole) with a sharp tip that digs into the ice. Or ask a passer-by to help you move over an icy surface.
If you have items to carry, use a backpack. That will keep your hands free in case of a fall.
Watch for cars as they may have trouble seeing you in the winter. Snowbanks, falling snow/rain, and blocked sidewalks can decrease visibility.
Because the winter days are shorter, wear clothing with reflective strips, a reflective vest, or add ankle and wrist reflector bands to your outdoor gear.
Remember: wet footwear can lead to slips on smooth indoor flooring, so be sure to wipe your feet.
Winter conditions can also prevent effective use of assistive devices such as canes and walkers, which are more likely to slip on ice and snow. Persons with disabilities and other accessibility challenges, cyclists, and those pushing strollers may need to pay extra attention when moving outside during the winter months.
Facing an icy surface can be a scary experience. Body movements such as the "Penguin Walk" can increase your stability on an icy surface. It includes the following body movement tips:
Bend slightly and walk flat footed.
Point your feet out slightly like a penguin.
Keep your centre of gravity over your feet as much as possible.
Watch where you are stepping.
Take shorter, shuffle-like steps.
Keep your arms at your sides – not in your pockets!
Concentrate on keeping your balance.
Go S-L-O-W-L-Y.
It's worth noting that in the Winnipeg Health Region, falls accounted for 62 per cent of unintentional injury hospitalizations for residents of all ages in the decade between 2000 and 2010. That figure increased to 83% for older adults. Those are stunning numbers that speak to the need to use caution to avoid falling, particularly during the winter months when traction can be questionable.
Still, my advice as an injury prevention specialist is that you don't allow a fear of falling to keep you from getting outdoors. Our winters are simply too long for that approach. From a self-care perspective, making the decision to spend time outside helps with improving your overall well-being.
So, get out there and be safe. Walking in winter can be enjoyable when you are prepared. Remember to ask for support if needed, and to take the time to plan a safe route before you go out.
For more information about preventing falls and staying on your feet, visit preventfalls.ca. The Canada Safety Council also offers some handy tips for winter walking, which can be found at canadasafetycouncil.org/safety-tips-for-winter-walking.
Cynthia Menzies is a public health specialist working in injury prevention, including falls, with the Winnipeg Regional Health Authority.