About Us
Racist and colonial practices, both past and present, continue to negatively affect the health and well-being of Indigenous People in Manitoba, leading to significant health inequities.
The Winnipeg Regional Health Authority Indigenous Health Patient Services Program supports the wholistic needs of Indigenous People receiving care at facilities throughout Winnipeg's health system.
Indigenous community and culture in Manitoba is alive and well. In 2015-16 78.5 per cent of Indigenous people in Manitoba described their sense of belonging to local community as being "very strong" or "somewhat strong." Elders, community health programs, awareness of Indigenous culture, family values/ connections, and use of Indigenous language were the most common strengths identified.
Members of the Indigenous Health Patient Services team collaborate with colleagues in real-time to nurture that connection to culture and community to Indigenous patients while receiving care in hospital.
Indigenous Health staff provide a wide range of services including systems' navigation support, Indigenous language interpretation, spiritual cultural care, resource information, discharge planning coordination, and access to patient advocacy support.
Background
Winnipeg has the largest urban Indigenous population in Canada with over 102,000 Indigenous people residing within the city.
The Health Status of and Access to Healthcare by Registered First Nation Peoples in Manitoba report (2019) noted that over the past 20 years the health gap for Indigenous and non-Indigenous Manitobans is widening. Past and current colonial policies have contributed to well-documented health inequities.
WRHA Indigenous Health Patient Services team are committed to support efforts throughout the care environment to help close this gap by providing access to Indigenous Health professionals that work alongside health care teams to increase capacity for culturally safe and relevant care.
More on the services and advocacy provided by Indigenous Health can be found by navigating through the Indigenous Health section on the WRHA website. If you have any additional questions or require assistance from Indigenous Health, please contact us at [email protected] or by calling us at 204-940-8880 or toll Free at: 1-877-940-8880.
---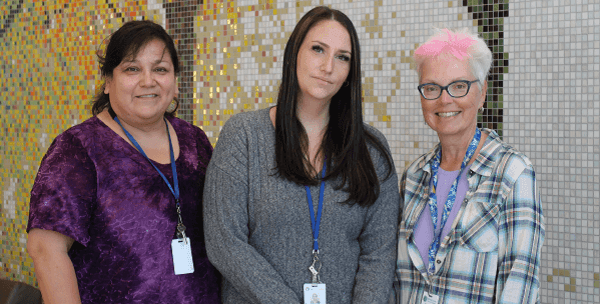 Jennifer Thomas, Alyssa Orpin and Debbie Cochrane
CENTRALIZED SUPPORT ASSISTANTS, INDIGENOUS HEALTH
Every call to access services offered through Indigenous Health always begins with a member of the Centralized Support team as the first point of contact. Operating as a dispatch unit and information hub, Indigenous Health's Centralized Support is the connection point for referrals, redirecting enquires, providing education resources, connecting individuals to appropriate services based on needs, and managing the calendar of the Traditional Wellness Clinic.
---