Discharge Coordination & Planning
Our Regional Discharge Planning Coordinators may work as part of your health-care team to plan patient discharges. Our goal is to make sure that everyone involved (community, government, health facilities, etc.) has a plan for you or your family member as they leave hospital. This may involve planning health care in the home community, transportation, housing and medical equipment.
If you or someone you know is receiving medical care in Winnipeg, access these services by calling toll-free 1-877-940-8880. You can also ask your health-care provider to call WRHA Indigenous Health for you.
Why call WRHA Indigenous Health for patient services? Call if you or your family member:
speak an Indigenous language
is being discharged
want a patient advocate
want ceremonies or traditional medicines
need additional support
are not sure if you need us – we can do an assessment to assist you
---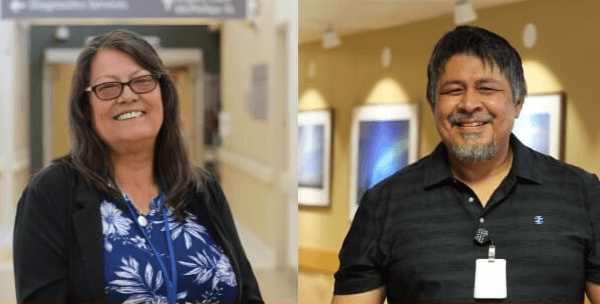 Bev Swan and Jason Swan
DISCHARGE PLANNING COORDINATORS, INDIGENOUS HEALTH
Bev Swan and Jason Swan aren't just cousins, they are also Winnipeg's only Regional Discharge Planning Coordinators, a role unique to the Indigenous Health program.
---
Contact Patient Services
Phone: 204-940-8880
Toll Free: 1-877-940-8880
[email protected]
GH215 Health Sciences Centre
820 Sherbrook Street
Winnipeg, Manitoba R3A 1R9
A1121 St. Boniface Hospital
409 Tache Avenue
Winnipeg, Manitoba R2H 2A6
HD220 Seven Oaks General Hospital
2300 McPhillips Street
Winnipeg, Manitoba R2V 3M3