Local Health Involvement Groups
Health impacts us all and in ways that we never would have imagined. The last year and a half have really shown us that. We've learned that staying physically and mentally well is more important than anything. During these challenging times we need to continue to involve the public in discussions about our health care system so that we stay focused on hearing about, responding to, and addressing the needs of people from across the Winnipeg health region.
Our Six Local Health Involvement Groups
The Local Health Involvement Groups (LHIGs) are made up of community members – from high school students to seniors – who are active in their communities. What all members have in common is that they care about health. Bringing people together from different backgrounds is critical to learning all we can about peoples' experience in the system.
There are six LHIGs throughout the Winnipeg health region and each group has between 11 and 15 community members. In representing the broader public, LHIG members meet to learn about, discuss, and provide feedback on issues that impact health and the health care system. Their feedback is captured in a report and presented to the WRHA Board and Executive Council.
The LHIGs have spent the 2021-2022 year providing input into the next WRHA Strategic Plan (2023-2028). Strategic plans provide key directions and priorities that the WRHA will focus on and aim to achieve over a five-year period and a well-informed plan ensures that public perspectives and priorities for the healthcare system are heard. Each LHIG met six times between September 2021 and June 2022.
Topics for the 2022-2023 year are currently under review and will be released in the fall.
Reports
Each topic that the Local Health Involvement Groups explore is captured in a report put together by staff with feedback from the members. We will provide updates on what is happening with the recommendations.
Volunteer Commitment
LHIG members volunteer for terms that are 3 years in length. At minimum, each group will meet 6 times per year, between September and May. This year, meetings will be virtual (using on-line platforms) and if possible, those who need additional support will meet in person or connect with LHIG staff one on one. Meetings occur in the evening - from 6:30 to 8:30 p.m.
Want to get involved?
We are always looking for people to get involved. The goal of recruitment is to build membership for each group that reflects the diversity of the communities that they live in. People apply to be on a Local Health Involvement Group (LHIG) based on where they live. You can take a look at the map below to see how the health region is broken up into 12 community areas. There are six LHIGs - each made up of community members from 2 community areas: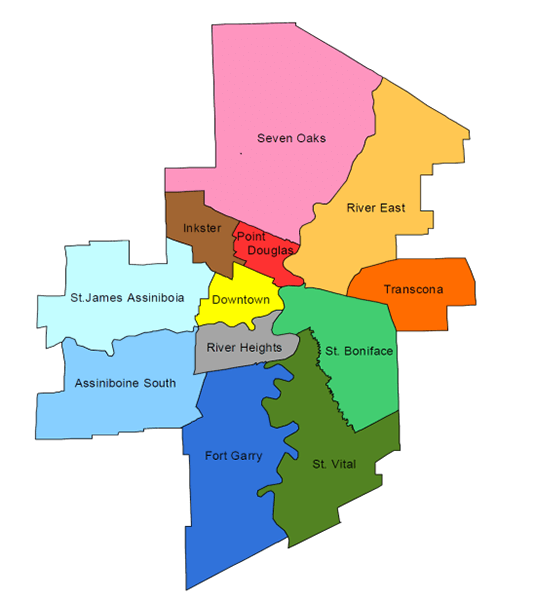 Those working in the health care system are not eligible for the LHIGs.
Want to Apply?
You can apply online (see below) or contact Janice Edwards at 431-338-2807 or at jedwards5@wrha.mb.ca to have a package mailed to you.  We will contact you when we receive your application. Everyone who applies will be interviewed.